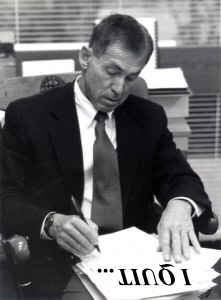 Note: The Orange Juice blog received this column from an anonymous source.
As the election campaign for Trustee draws to a close at Coast Community College District, questions have emerged about the departure of David Grant as President of Orange Coast College. Grant is running as a "Retired College President" on his candidate ballot, but what really happened when his tenure as president drew to a close in late 1995? His "retirement" from his position was far from normal as numerous sources and public records indicate.
What is known for sure is that Grant left his post in the middle of the school year which is extremely abnormal in itself, highly unusual, and very disruptive to a college campus in terms of the timing—-the Board of Trustees was forced to hire an Interim President that December. Further, public records indicate that Grant's remaining vacation balance was paid out in a lump sum payment…Usually, when administrators retire, they use up their vacation in most cases before their final departure from employment.
It is known from a highly reliable source that Mr. Grant impulsively resigned, and then tried to rescind his resignation, but the Board of Trustees would not agree to that. With this information, it is fair to conclude that Mr. Grant's retirement as president was forced, and not planned. Whatever the other specifics are of Mr. Grant's departure, it's clear that at the very young age of 57, Mr. Grant's retirement from the presidency was not planned, was done in an abrupt way, and raises serious questions about his fitness for trusteeship. Knowledge of Mr. Grant's abrupt departure from Orange Coast College is widely known to people who worked at Orange Coast College and the Coast District at that time.
Why did Mr. Grant leave his post so suddenly? And given these abrupt and questionable circumstances, is this really someone well suited for community college trusteeship? Trustees need balance, objectivity, and poise – given the fact that Mr. Grant left his job so abruptly, is he really fit to serve on the board at Coast? If elected, will he angry and hostile to his fellow Trustees and staff?
Jim Carnett, a former Orange Coast College employee who is loyal to Mr. Grant, wrote recently in a local publication that things were "good" at the end of 1995 at Orange Coast College. We don't agree with Mr. Carnett: How good could things be for a college campus when its leader abruptly "retires" in the midst of a school year and his board has to appoint an Interim President? Not very good at all, from a leadership point of view….
The Orange Juice Blog and its publisher, Art Pedroza, have endorsed Mr. Grant's opponent, Dr. Lynne Riddle, given her extensive experience as a federal judge, educator, and high level of integrity. Given the very uncertain nature and possibly questionable circumstances about the end of Mr. Grant's tenure, voters must all the more seriously consider the outstanding qualities of Dr. Lynne Riddle as they consider their next Trustee in Area 5 of the Coast Community College District.