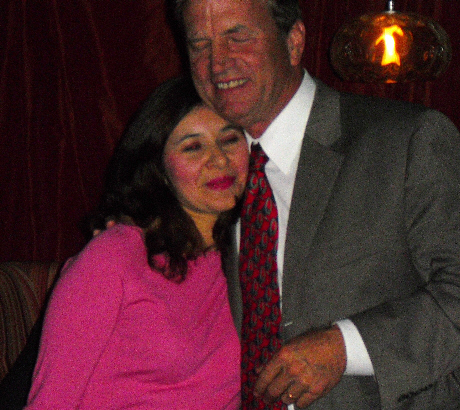 When I heard that Assemblyman Chris Norby was being accused of pushing his wife, Martha, I had to read it for myself.  I was not surprised to see that the story was broken by the Voice of OC news blog, which is run by a board full of Democratic trial lawyers and is funded by Nick Berardino and his Orange County Employees Association.  Objective?  Not.
Here are a few excerpts from their post:
Chris Norby (R-Fullerton) and his wife, Martha, acknowledged having an argument during the afternoon of Sept. 2 that caused a deliveryman to call the police. But both also say there was no physical altercation or anything else that would warrant a police investigation.

However, a public summary of the police report stated that Chris Norby pushed Martha Norby during the argument. Reading from the report, Sgt. Andrew Goodrich said the report stated that "female advised male pushed her."
I met Martha Norby shortly after she married Chris, at a function in Fullerton.  She is very beautiful and charming – and she doesn't have a good grasp of English yet.  When we talk we always do so in Spanish.  She is from Columbia, where she grew up helping her family run a coffee business.  As a little girl she was already working in the office, and she grew up quickly.
As one might imagine, Martha is very grounded and confident.  And she clearly loves her husband.  The last time I spoke to her, at another function in Fullerton, she expressed concern for Chris' well-being.  Apparently he has taken to going for long bicycle rides in Sacramento, which really worries Martha.
Martha already had three kids when she married Chris.  I have NEVER seen him be anything but warm with these kids.  Just look at the pictures I have embedded in this post.  They look like a happy family because they are a happy family.
So why did Martha say that Chris pushed her?  According to media reports, Chris didn't want Martha to go pick up the kids from school, and so they argued.  She is pregnant and apparently her doctor wants her to limit her activity.
The police report says Martha told the cops that Chris pushed her.  Here is the problem – were the cops Latino?  Did they speak Spanish?  Doubt it.  You see there are TWO definitions of the word "empujar," which is how we say "push" in Spanish.
The common definition is to push someone.  But there is a second use of the word.  It also means "Hacer presión, influir," which means to pressure or influence.
Was Chris trying to pressure Martha into staying home?  You bet.
She now says he didn't push her.  That's because he didn't!  I believe that she was referring to the second use of the word "empujar," when she told the cops he pushed her.
Do I know this for a fact?  No.  But I know Spanish.  So does Norberto Santana, the editor at the Voice of OC.  The difference is that he was ordered to conduct a hatchet job on Norby.  I have no interest in doing that.
It is a known fact that Santana's boss, Berardino, hates Norby, so no one should be surprised by any of this.
I know what it is to be on the receiving end of such attacks.  Not a day goes by that Berardino's stooges at the Liberal OC don't attack me over at their lame blog.  I'll be damned if I am going to stand by and say nothing when they try this crap on Norby, who isn't a bad guy at all.
Norby has been divorced a few times, that is true.  I bet Berardino has had a divorce or two.  Most Americans get divorced.  It is a rare man who stays married, as I have, to the same woman.  In my case I celebrated my 23rd wedding anniversary this year.  If Norby had met the right woman long ago perhaps he too would be in such a position.
This case stinks and I guarantee the O.C. District Attorney will drop it, particularly when they look into the fake objectivity at the Voice of OC.
By the way, does anyone think the Voice of OC would have reported about Tom Umberg being a carpetbagger and an adulterer, when he ran for the First Supervisorial District?  Of course they wouldn't have.  Umberg was Berardino's handpicked lame candidate…