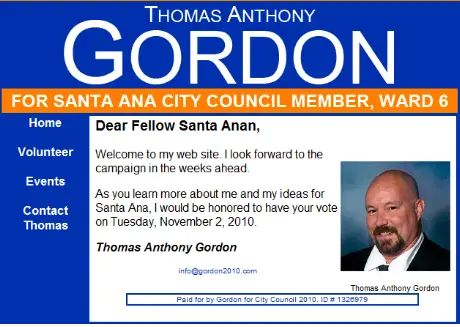 I thought it was very odd when Thomas Gordon submitted his nomination papers for Ward 6 on the Santa Ana City Council, with the signature of one of his opponents, Helen Martinez, and several members of her family.  Gordon famously screwed up and was short a few signatures – he even botched his own signature and had to remove it from the papers, according to R. Scott Moxley, over at the OC Weekly.
Here is what Gordon told Moxley:
"I turned in 23 signatures," he told me. "I needed 20, but the clerk disqualified a few of them, including my own. Imagine that. They claimed my signature didn't match my voter registration. But hey, I'm not going to claim any conspiracy. I screwed up. Shame on me … I kick myself every day that I'm not running against Sal."
Are you kidding?  Gordon couldn't sign his own signature?  Seriously?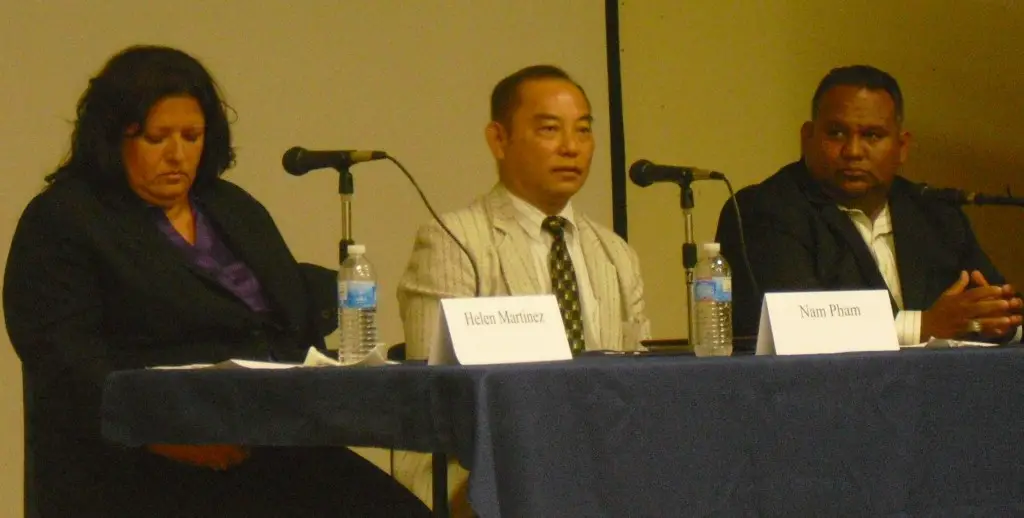 Helen Martinez gets text messages from Thomas Gordon during a candidates forum in Ward 6
Of course Gordon says he is innocent, but unfortunately for him, there is proof that he, Martinez and their fellow Usual Suspect Santa Ana Councilman David Benavides conspired to split the vote.  A non-political mom named Rosa Aldaz has the goods – emails she received from Martinez that appear to confirm the conspiracy.
Here are some of Aldaz' comments about the conspirators, courtesy of the OC Weekly:
Click here to read the rest of this post.
Usual Suspect Debbie McEwen salutes the Orange Juice blog