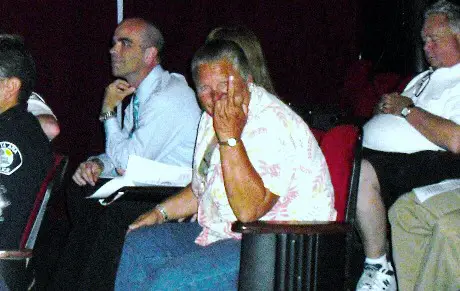 Debbie McEwen practices her free speech, at tonight's Council meeting
The Alfredo Amezcua campaign spent a week screaming on Facebook about free speech, but at tonight's Santa Ana City Council meeting, which was held at the historic Yost Theater, they sent a mime to the podium, then waved the white flag.  I was embarrassed for them.
Ruben Alvarez, who serves as Amezcua's photographer, turned in a speaker card.  I asked him where his censorship sticker was and he blanched.  He must have thought I read his mind.  Moments later, when he took the podium, he put a piece of white tape over his mouth, then proceeded to hold up sheets of paper with words on them.  It was all so lame I couldn't even follow what the heck he was trying to say.
Councilman David Benavides whined and pleaded for forgiveness, apparently forgetting that he had voted to silence Amezcua's disciple, Alberto Castillo.
The rest of the Council would have none of that…
Click here to read the rest of this post.