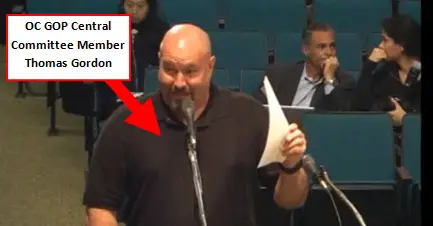 There aren't many announced challengers for the Santa Ana City Council yet, except for Alfredo Amezcua, who is running against Mayor Miguel Pulido, and Thomas Gordon, who once ran against Pulido and is now running against Councilman Sal Tinajero.
Ironically both Amezcua and Gordon are cyphers.  As we have detailed in a previous post, Amezcua's campaign website is short on ideas or policy.  Gordon, on the other hand, doesn't even have a campaign website – yet. 
We do know that Gordon is a member of the Republican Party of Orange County's Central Committee and he blogs for Red County, a GOP blog.  And we know that he worked with Minuteman Lupe Moreno on the recent Independence Day event in Santa Ana that went awry when another Minuteman called a Santa Ana resident a wetback.  But we don't know where Gordon stands on the issues of the day.
However Gordon does have a Twitter page – and by all appearance he tweets a lot.  Here then are a few of these tweets – while we don't know what he stands for, directly, we can discern a lot about who he is and what he believes, from these tweets:
Click here to read the rest of this post: