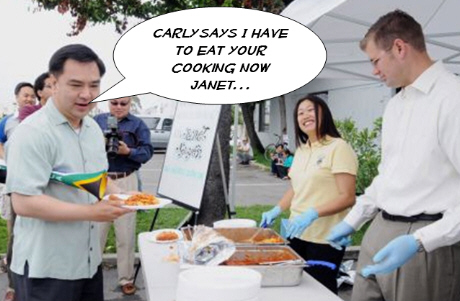 Republican U.S. Senate candidate Carly Fiorina announced her new "Asian-American Coalition," which is full of folks who despise each other.
Assemblyman Van Tran, who is struggling to raise money in his campaign against Congresswoman Loretta Sanchez, is one of Fiorina's "Honorary Chairs."  Tran brought along a slew of his "Trannies," including Westminster Councilmen Andy Quach and Tyler Diep – and get this, here in the O.C. they are going to have to work with their arch-enemy, Supervisor Janet Nguyen.  Awkward!
Can an "Oompa-Loompa Coalition" be far behind?
Here is Fiorina's press release:
July 15, 2010
Carly Fiorina Launches Asian-American Coalition, Names Statewide and Regional Leadership Chairs
Board of Equalization Member Michelle Steel, Assemblyman Van Tran and Former Assemblyman Alan Nakanishi Among Honorary Chairs Named
SACRAMENTO, CA – During a campaign swing through Sacramento, U.S. Senate candidate Carly Fiorina today met with a group of Asian small-business owners at Alliance Auto Body, where she launched Asian Americans for Carly and named Ann Hoang Fogliani statewide coalition chair.
"California is a great state, and I want my children to have access to the same opportunities I have had the fortune to enjoy," said Hoang Fogliani. "Carly has lived the American dream, and she knows what it will take to create jobs and build a strong economy today and for future generations, and that's the reason I am proud to join her campaign team today. With the help of the Asian community in California, I am certain we will defeat Barbara Boxer this November."
Fogliani has been active in Republican politics for many years and currently serves as Director of Business Operations for Fogliani Strategies, a premier GOP consulting firm, where she specializes in ethnic coalitions. She recently served as Campaign Manager for Assemblyman Bill Berryhill and Executive Director of the Stanislaus County Republican Party. Fogliani is currently on the Board of Directors for Asian Pacific Americans for Political Action and for the Asian Americans for Good Government PAC.
"The American dream I have lived is both precious and perishable. And I'm concerned that the path of more regulation, higher taxes and bigger government Washington has put us on is leading our nation in the wrong direction," said Fiorina. "Over the course of her 28 years in Washington, Barbara Boxer has demonstrated her unwillingness to support policies that will help us create jobs and grow our economy, and that's why she must be replaced this fall."
Also named today were Northern California Chair Tido Hoang, Central Valley Chair Les Fong, Southern California Chair Joe Long and Honorary Chairs Board of Equalization Member Michelle Steel, Assemblyman Van Tran, former Assemblyman Alan Nakanishi, Asian Pacific Islander American Public Affairs Founder and Chairman C.C. Yin, Orange County Supervisor Janet Nguyen, Walnut Mayor Mary Su, Rosemead Mayor Pro Tem Steven Ly, Irvine City Councilman Steven Choi, Westminster City Councilman Andy Quach, Westminster City Councilman Tri Ta, Westminster City Councilman Tyler Diep, Diamond Bar City Councilwoman Ling-Ling Chang and former Diamond Bar Mayor Wen Chang.