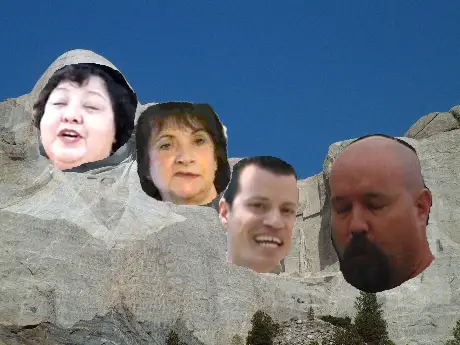 We reported this weekend that the Minutemen took over the Independence Day event that was held at the Santa Ana Public Library.  Now comes word that Councilman David Benavides wants to honor these people at tonight's City Council meeting!
Here is what the agenda item states:
CERTIFICATES OF RECOGNITION presented by COUNCIL MEMBER BENAVIDES to: The American Independence Day Planning Committee: Rosie Avila, Lupe Moreno, Anne Menaldo, Stand Zubas, Marva Zubas, Ann Coil, Thomas Gordon, Fred Bella, Pastor Doug McMains, Pastor Noe Granados, Frank Bostrom, Kathy Goddard, Melanie Cole- Gomez, Steve McGuigan, Kathy MacDonald, Anita Hynds and Milly Lugo and to TNT Fireworks representative, John Kelly for organizing and contributing to the American Independence Day Celebration at the Santa Ana Main Library held on July 3, 2010.
Not all of these people are Minutemen, but several are.  Some of them, usch as Thomas Gordon, Rosie Avila and Lupe Moreno, are also involved in the Republican Party of Orange County.
I think it is deplorable that these people used public property to promote their agenda.  The Minutemen are not welcome in our city!
Here is a letter that our blogger Sean Mill wrote to the Santa Ana City Council in reaction to this agenda item:
Click here to read the rest of this post.