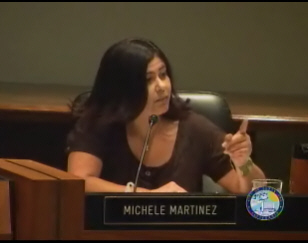 The Santa Ana City Council voted unanimously tonight to approve the Transit Zone project.
Council Members Michele Martinez, David Benavides, Carlos Bustamante and Sal Tinajero voted in the affirmative.  Miguel Pulido, Claudia Alvarez and Vince Sarmiento did not vote, due to conflicts of interest.  Sarmiento and Alvarez were there, but left the room for the vote.  Pulido did not come to the meeting.
The SACReD folks and a few Usual Suspects showed up to oppose the project.  They broke into sarcastic clapping as the meeting drew to a close.
Martinez was very passionate in her comments.  She said if the vote cost her reelection, so be it.  She also said, "Have faith that we will stay committed to what we are voting for tonight."
Click here to read the rest of this post.