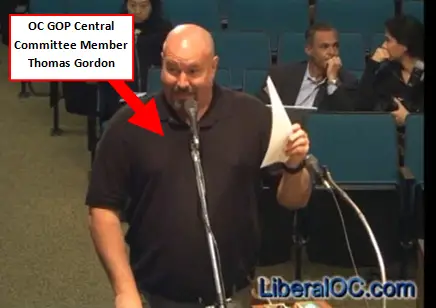 Part-time Santa Ana resident, and government worker, Thomas Gordon, who also serves on the Republican Party of Orange County's Central Committee, personally gathered signatures in order to nominate carpetbagging Supervisorial candidate Harry Sidhu for the OC GOP Central Committee, in the 69th Assembly District. 
Last night Gordon tried to garner the OC GOP Central Committee's endorsement for Sidhu's Supervisorial race.  Gordon racked up eight votes, including his own vote and that of Sidhu's.
Sidhu's opponent, Fullerton Councilman Shawn Nelson, got 47 votes – and he was overwhelmingly endorsed by the OC GOP Central Committee.
This was surely a stunning loss for Gordon, who just a few weeks ago said he was going to "wipe the floor" with Santa Ana Councilman Sal Tinajero, in Ward 6 of the Santa Ana City Council.
Click here to read the rest of this post.