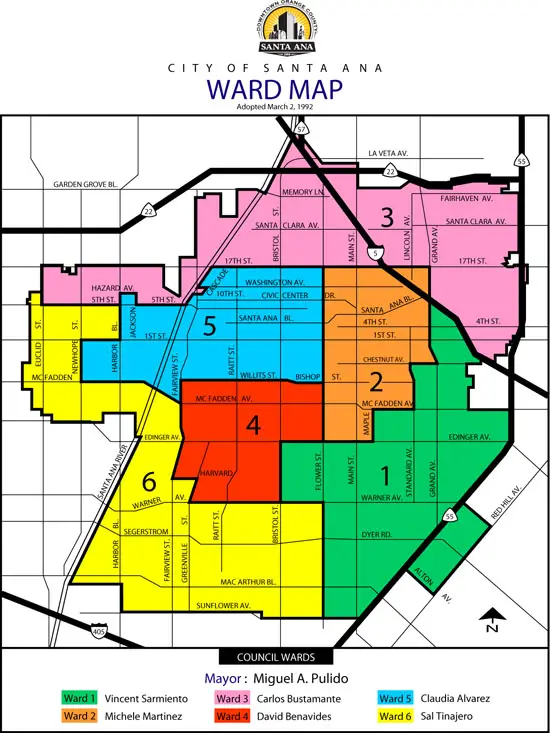 Half of Councilman David Benavides' Commission appointees live in Ward 3.  He represents Ward 4.
David Benavides is one of three Santa Ana Council members up for re-election this November.  He represents Ward 4, which is highlighted in red in the Ward Map shown above.  I found it shocking that he appointed Julie Stroud to the Santa Ana Parks and Recreation Commission, given her longstanding animus for immigrants, so I thought I would review who else he has appointed to our City Commissions.
Housing and Redevelopment Commission – Benavides has not appointed anyone to this important commission.  There are two other vacancies as well.
Environmental and Traffic Advisory Committee – Benavides appointed Don Cribb, who lives in Park Santiago, which is not in Benavides' ward.  Cribb lives in Ward 3.
Planning Commission – Benavides appointed Mario Turner.  He does not live in Benavides' ward, but he is a good choice for this Commission, having previously served on the Housing and Redevelopment Commission.  He lives in the Park Santiago Neighborhood, which is in Ward 3.
Parks and Rec Commission – as mentioned above, Benavides appointed Julie Stroud.  She does not live in his ward.  Like Cribb and Turner, she lives in Ward 3, which is represented by Councilman Carlos Bustamante.
Click here to read the rest of this post.