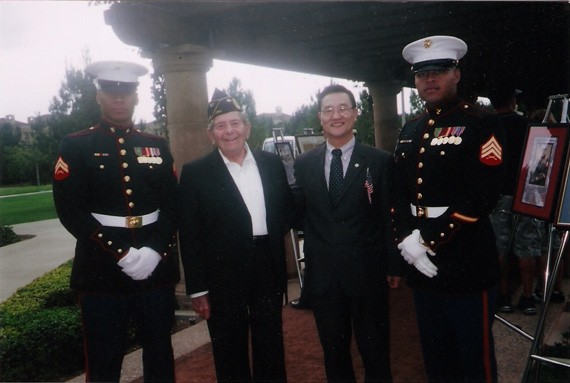 Dr. Steven Choi with U.S. Marines on Veterans Day 2007. As a young man,
Dr. Choi served in the South Korean military alongside US soldiers, in the DMZ, opposite Communist North Korea.
Irvine City Councilman Steven Choi, who is a candidate for the 70th Assembly District, has reacted to the attack on his freedom of speech by local Democrats by writing a letter to the Orange County Register.  Choi shared the letters with us.
It should be noted that Choi knows something about fighting for freedom.  As a young man he served alongside our troops in Korea, in the DMZ, opposite communist forces.
Here is Choi's take on the blue party reaction to his protest of House Speaker Nancy Pelosi at last weekend's Democratic Party of Orange County Truman Awards Dinner:
Honor Republicans' freedom of speech too
Orange County Democrats have criticized me for joining a large group of people outside an Irvine hotel where the Democrats' big dinner featured House Speaker Nancy Pelosi.
Someone put a sign on my back that depicted Speaker Pelosi as a socialist.  It was obvious hyperbole and satirical, yet the Democrats are having fits. I guess they think that freedom of speech does not extend to Republicans.
I am very troubled by the actions of Congress, particularly regarding health care and the lack of effective steps to significantly improve the economy.  You may disagree.  That's fine – we're all Americans.  When a prominent leader comes to town, we all have the right to express our opinions.
Orange County Republicans claim that this County is the most Republican in the country.  That claim carries responsibility. I hope they will participate more than they have in important national discussions.  I hope we all will.
Sincerely,
Irvine City Councilman