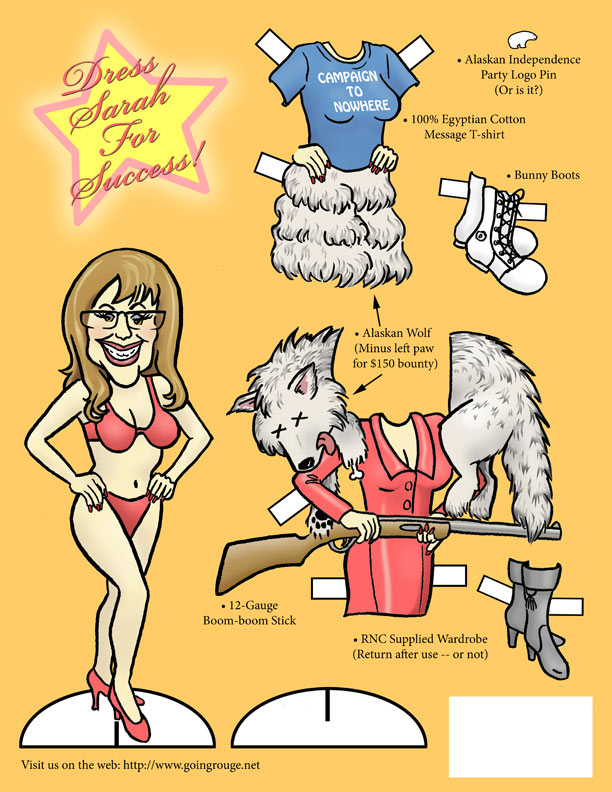 According to the New York Times    LINK     Sarah Palin's upcoming book has inspired a crowd of authors to release their versions of Sarah Palin's "Rogue" ness and has created a little "boomlet" of unauthorized biographies, essays and even a tongue-in-cheek coloring book.  I've torn out the backpage of the coloring book, Going Rouge",  for you to see (above). 
From the Going Rouge   website:        Yeah, yeah, we heard all about the Sarah Palin's Book Going Rogue – An American Life to be launched on Nov 17th. They expect to move 1.5 million copies, and pre-orders have been brisk.  We couldn't let that stand without a fight. There are two sides to every story, but let's get something clear here – Sarah didn't write this book either.   So we created an alternative: Going Rouge – The Sarah Palin Rogue Coloring and Activity Book, now available for pre-order, with a launch date of November 17th, just like that other shameless rot. But our book is chock full of mazes (like "Help Sarah find her way to the White House"), puzzles, word games, and brilliant illustrations to color or chuckle over as we mercilessly lampoon and parody everything Palin in 48 pages of hilarity.
Sex, death, energy, power, politics, and heavy makeup — it's all here!
More Sample pages can be seen   HERE