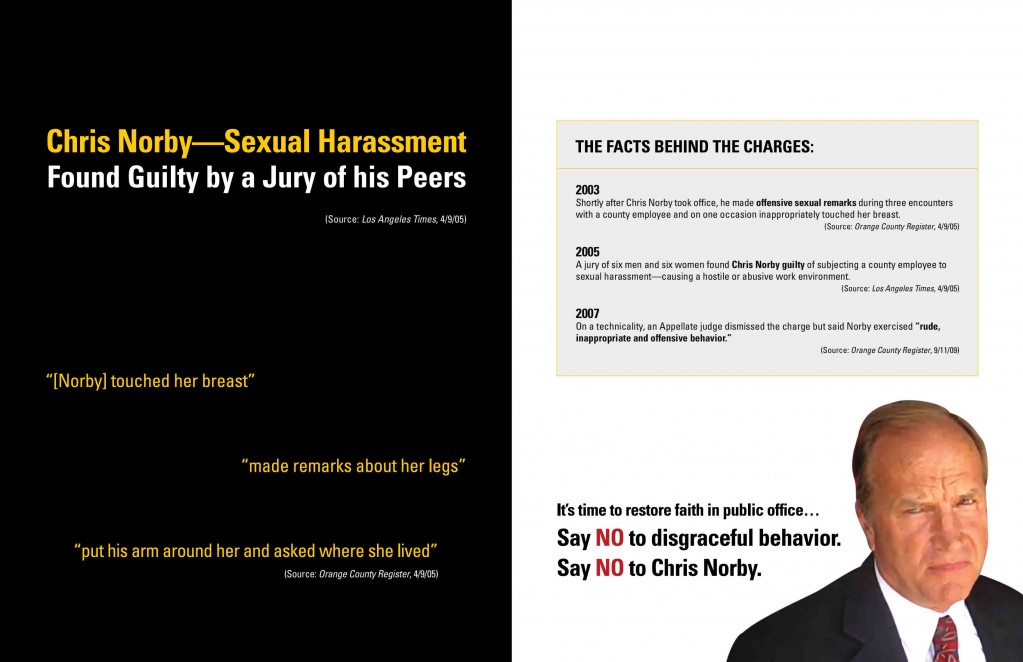 Linda Ackerman has launched a horrible hit piece on Supervisor Chris Norby.  She is spreading lies about harassment that have been roundly debunked. 
How sad that Ackerman cannot go after Norby on the issues.  Her husband Dick was a compromising worm in the State Senate – so she cannot run on that record.  And Linda apparently didn't finish college and is not the businesswoman she claims to be.  For several years her job has been to squeeze lobbyists for campaign contributions for her hubby and his pals.
What really irks me is that Red County editor Matt "Jerbal" Cunningham is not coming to Norby's defense, even though he claims to be Norby's friend.  With friends like that, who needs enemies?
So it fell upon Red County's Allan Bartlett to defend Norby in a post that is sure to be deleted by Jerbal and Red County publisher Chip Hanlon.  Here are a few excerpts:
We are barely a week past the filing deadline and already the slime storm from Linda Ackerman has started.  Granted we knew this was coming, but that doesn't mean we can't question the ethics of a flier like this.  This is a desperate flier from a desperate campaign.
Obviously her campaign has made the calculation that they are not going to talk about the issues that matter to 72nd district voters and instead are going for a scorched earth campaign.  I believe this flier and others that are sure to get mailed will have blowback to them.  Voters are so turned off right now about the Legislature that they're apt to blame Linda Ackerman for being part of the problem.
So again I get that this campaign was going to be the mother of all negative campaigns recently here in OC, but I hope that it backfires big time on Linda Ackerman.  I am proud to stand with Tom McClintock and Chris Norby in this battle for who will represent us up in Sacramento.
Click here to see the entire hit piece by the Hackermans, on Norby.
The irony of all this is that the Hackermans created Mike Duvall, the pervy Assemblyman who resigned from the 72nd Assembly District after he got caught talking about sex with lobbyists by an open microphone, in the Assembly chambers.  Dick recruited Duvall – and I find it hard to believe that Dick didn't know about Duvall's pervy nature.