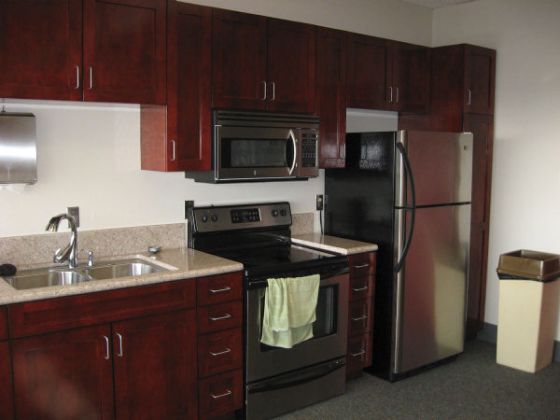 (Picture courtesy of the O.C. Register)
"The nearly $400,000 remodeling of reception and break areas for county supervisors is drawing fire from employees, labor officials, and even one county supervisor, as officials plan to lay off nearly 800 social service workers," according to the O.C. Register.
Wow.  The County is laying off 210 social services workers this month, according to the L.A. Times, while they spend hundreds of thousands remodeling their break areas?  Check out their snazzy new break room (pictured above) – complete with granite countertops and stainless steel appliances.  Nice.
All of this stems from problems with barriers that were elected post 9/11 to keep the public from having access to the Supervisors.  The barriers apparently are blocking access to emergency exits.  However, the first floor of the Hall of Administration has a Sheriff's station and a metal detector.  So why are these barriers even needed?
Apparently Supervisor John Moorlach has received death threats so he feels the barriers are needed. However Supervisor Chris Norby disagrees.  "I favored tearing the barrier down and having them stay down," said Norby. "The message that would send is that we are an open government," Norby said, adding that any member of the public should be able to simply walk into a supervisor's office.
Thank God for Norby!  He is the only Supervisor who makes sense on a consistent basis.
I doubt the rest of the Supervisors will halt the construction – heartless Republicans.  May they all find coal in their Christmas stockings…except for Norby!