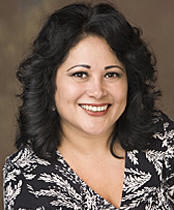 i have known Irene Ibarra for years.  She is a product of Santa Ana schools.  She has come a long way, overcoming a lot of challenges to become the owner of a very successful business that helps people who are forced to relocate due to eminent domain seizures of their homes.
Here are a few biographical highlights about Ibarra, from her Smart Voter website:
Occupation: Business Owner
City of Santa Ana Parks & Recreation Community Award, 2002
Latin Business Association Latina Entrepeneur of the Year, 2003
Glamour Magazine "en Espanol" Woman of the Year, 2004
International Right of Way Association Employer of the Year, 2004
Member, Santa Ana Kiwanis
Member, International Right of Way Association
For some reason, a few of the other SAUSD school board candidates have been attacking Ibarra, which just goes to prove that no good deed goes unpunished.  Ibarra didn't have to run for the school board.  She did it because she cares. And I think she will do a damn good job bringing her common sense attitude to the SAUSD School Board.  She won't be bullied by SAUSD administrators – instead she will hold them accountable.
Ibarra has been endorsed by yours truly, plus former Santa Ana Councilman John Acosta, SAUSD Trustee john Palacio and Santa Ana Councilman Sal Tinajero.  She is also endorsed by Planned Parenthood and the Young Democrats of Orange County.  You can read about her other endorsements at this link.
In the early eighties, Ibarra was employed by the City of Santa Ana as a Code Enforcement Inspector and Residential Rehabilitation Specialist. She left the City of Santa Ana in 1985 to work for the City of San Jose as a Project Manager and subsequently she started her own consulting business in 1989. She has owned her own business for almost twenty years.
You can read Ibarra's full biography at this link.  You can read more about Ibarra's goals for the SAUSD at this link.  And you can email Ibarra at this link.
Ibarra is working hard on her campaign – she has spent a lot of her own money.  She has no interest in higher office.  She just wants to do a great job on our SAUSD School Board. I hope she wins!
About the Focus on the SAUSD School Board Candidates Series:

The Orange Juice will be profiling each of the candidates for the SAUSD School Board.  Our first post featured Gregory Barraza, a teacher at Saddleback College.  Click here to read that post. Barraza recently sent me a new picture  to replace the Facebook picture we used in that post.  He also said that Rob Richardson and Mark McLaughlin did NOT ask him to run.  He ran because he felt he was the most qualified candidate and he wants to help the troubled SAUSD.  It is certainly not debatable that he is the only teacher running and the only candidate with experience as an educational administrator.
Up next in this series: Roman Reyna