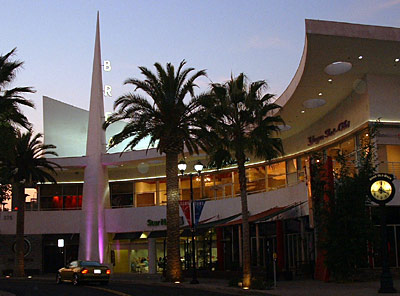 My co-blogger, Larry Gilbert, recently wrote about the possibility that the Brea City Council might raise their local sales tax in order to cover a looming budget shortfall.  However Gilbert's post focused on redevelopment.  It did not touch on the reasons that the Brea City Council is in this fix.
Thus I was not surprised when Brea Councilman Ron Garcia emailed me and asked if I could meet for coffee.  We did meet, at a very nice Starbucks location at the Union Plaza, in Brea, which sadly is going to be closed down soon.  The imminent closure of this Starbucks is indicative of the real problem in Brea.
It turns out that sales tax revenue is down 8% in Brea.  And, as Gilbert mentioned in his post, the City of Brea does not benefit from the property taxes generated by its awesome revitalized downtown.  However, as I understand it, sales taxes generated in the downtown area do go to the state and a percentage of those sales taxes do come back to Brea.
Brea, unlike the city I live in, Santa Ana, is a well-run city.  It has a reserve.  The Brea City Council does not engage in deficit spending.  They are facing a shortfall in their budget and rather than dip into their reserves they are considering placing a measure on the November ballot that will ask the voters in Brea to approve a quarter percent increase in their local sales tax.  This will amount to $25 on a $10,000 purchase.
You would think that the business community in Brea would be up in arms.  But you would be wrong.  The Brea Chamber of Commerce and the downtown business association is supporting the idea of raising the sales tax.  So is the Brea Mall merchants' association.
Why are all these folks supporting this idea?  Well, it turns out that 80% of sales tax revenue in Brea comes from folks who don't live in Brea but do shop there.  And the people of Brea like the way their city is run.  Garcia told me that a survey conducted in the city revealed that 96% of residents like living in Brea and like what Brea is all about.  That's not bad!
Garcia made it clear that he and his fellow Council Members are not proposing to raise taxes.  They are merely pondering asking their fellow voters to decide the issue.  If the voters say no, then the City Council will have no choice but to slash city services.
And those residents have made it clear in the past that they don't want any cuts in services.  They like having their own police department, which also provides police services to the neighboring city of Yorba Linda.  They like having community services and they are thrilled at the pending multi-million dollar sports park that is going to be another redevelopment project.
Which brings me to the issue of redevelopment.  The fact is, downtown Brea was about as bad as downtown Santa Ana a few years ago.  The city decided to allow a development which was funded by a bond.  The property taxes in that area now are spent paying back that bond.  It will take many years to pay off that bond.  However, in the meantime, as I noted, the city gets their share of the sales tax revenue.  And the people of Brea have a great comedy club, a movie theater and lots of neat restaurants to hang out at.
Go to downtown Santa Ana at night and you will find a few bars and restaurants but no comedy club and no movie theater, and none of the great restaurants you will find in Brea.  People want to hang out in downtown Brea now.  Some people do that in Santa Ana too, but many just drive on through.  And there is always the fear of crime in downtown Santa Ana.  You just don't feel safe most of the time.  But you are definitely safe in Brea.
So is redevelopment all that bad?  Beats me.  But clearly the downtown area of Brea is a home run.  And their new sports park also figures to be a great place for locals to enjoy themselves.  Neither of these projects would have come to fruition without redevelopment deals.  Ask the people of Brea how they feel about these projects and 96% will tell you they love the city they live in.  That matters, doesn't it?