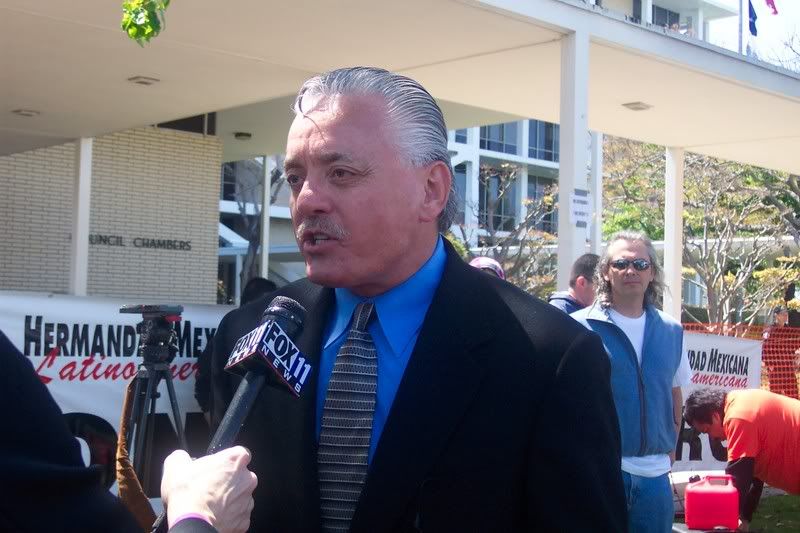 There are still quite a few Democrats who blame John Kerry's loss, at least in part, on Nativo Lopez.  He left their party and joined the Green Party a few years back and he helped the Ralph Nader campaign, against Kerry.  And as we all know, George W. Bush was reelected, Kerry lost and Nader is running again this year for the Presidency.  But THIS time Lopez is backing the Democratic nominee, Barack Obama.
That is good news for Obama.  Lopez continues to have a lot of ties to organized labor and he has proven that he can get Latinos out in large numbers for protests.  Will that translate into votes?  I think so, at least to a certain extent.  But Lopez is still polarizing amongst Republicans – whether or not he will hurt Obama with independents remains to be determined.
Lopez also runs the Mexican American Political Association (MAPA), which has announced a MAPA for Obama national campaign.  Here is Lopez' press release to that effect:
The Mexican American Political Association (MAPA) announces the MAPA FOR OBAMA national campaign for the purpose of aggressively introducing the candidacy of Senator Barack Obama to the Latino communities throughout the U.S. This is a campaign to mobilize the Latino vote in favor of the Obama candidacy for president, but also to establish permanent organization in our neighborhoods, schools, colleges, universities, and work-places.
Form a MAPA FOR OBAMA chapter today. It is not only about electing a president who stands for change, but making the change ourselves on the issues that are important to us. It is about both electing candidates for change to political office and building permanent organization that you control and own.
Let us unite around the issues that unite our communities:
· Fair and humane immigration reform
· Return the U.S. troops from Iraq and Afghanistan and an end to the war
· Universal single-payer health care for all persons
· A living wage for all working people
· Respect a women's right to choice
· University education guaranteed to all irrespective of immigration status
· Respect the right to organize a union in the work-place with no retaliation
· A green and clean environment and an end to dependency on fossil fuels
· Homeownership – a dream based on fair loan terms and no predatory lending
· Fair and equitable trade policies
These are the issues that are important to us and around which we can form chapters of the MAPA FOR OBAMA campaign.
Call us today to form your chapter, hold a house meeting or campus meeting. Once you form your MAPA FOR OBAMA chapter you control the leadership, you engage in the campaign locally, you control the resources, you direct the campaign in your sphere of influence, and you will hold the candidate accountable after Election Day.
You can reach us at www.mapa.org –
nativolopez@mapa-ca.org –
nativolopez@sbcglobal.net or (323) 269-1575. We are organized in all major counties throughout California and in other states. You also can be part of this network. Call us.
Nativo V. Lopez
National President