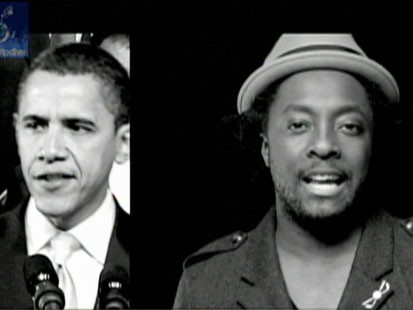 My mom called me today to tell me that she changed her mind on Election Day after our talk about Hillary Clinton and Barack Obama. At the time she was insistent on voting for Clinton. I pleaded with her not to waste her vote on Clinton. I thought I had failed. But she changed her mind.
At the time she questioned whether Obama could represent us all. But then she took the time to watch him on television and she realized I was right. There is something special about this man. Something that transcends his politics.
When you think about all the travails that African Americans have suffered since their people were brought here in chains to be slaves to the white settlers of the New World, it just takes your breath away. Until now the party most of them belong to, the Democrats, has largely taken them for granted, just as they now take Latinos for granted. Oh sure, the Democratic politicians want their votes. But make no mistake about it. When Hillary says we need experience, she is telling Obama to go to the back of the bus.
But folks don't want to hear that crap anymore. Obama doesn't want to go to the back of the bus. He wants to drive it – in a new direction, not back to the 90's. Not back to the endless embarrassment that was the Clinton regime. He wants to move forward and take us with him. And people are starting to believe.
The L.A. Times pointed me to a website where a member of the Black Eyed Peas put together an amazing video called Yes We Can. It is a montage of Obama making a stirring speech, interspersed with "a cross-section of A-list actors, musicians and athletes: Scarlett Johansson, John Legend, Laker great Kareem Abdul-Jabbar, Herbie Hancock, rapper Common and Nicole Scherzinger of the Pussycat Dolls among them. In black and white, they sing, mouth and recite Obama's messages about hope, change and social uplift against a plain black backdrop." It is moving and inspirational. And it has been viewed over ten million times!
Yes we can. What a simple message. And yet it means so much. In Spanish we have a similar saying, "Si Se Puede." It is a defiant yet hopeful mantra. It summarizes how so many of us feel about what Obama represents. His candidacy is not just historical. It is so much more than that. I never would have thought that an African American could become our President. But Obama is showing us how wrong that sentiment was. Yes we can. Indeed.
Does Clinton stir such sentiment in anyone? I doubt it. Her tone is an unending screech. There is no hope in her voice. No passion. Nothing that resonates with anyone but those who, like her, worship money and power. No wonder she is having a heck of a time raising money. She wilts in comparison to Obama.
Let me be clear about one thing. Clinton will lose to McCain. Obama won't. Clinton will never inspire. But Obama is a living inspiration. Clinton will do anything to win. Obama won't have to. We won't let her shove him to the back of the bus. Those days are over. Our time is now.