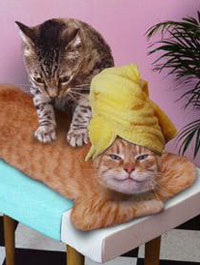 The Santa Ana City Council partied tonight at Councilman Vince Sarmiento's house, apparently in celebration of Christmas. We can only hope that Councilman Sal Tinajero did not play Santa Claus. The Orange Juice blog team thought about caroling outside the party, with a special carol about Measure D, but in the end we decided to let them eat their gingerbread in peace.
It is hard to believe that an entire year has passed since the current Council Members were elected. I had coffee with a few friends this afternoon, after we spent the day walking precincts with some clever anti Measure D fliers, and we tried to think of what the Council has accomplished this year. And that's when we decided to do a Santa Ana City Council Year in Review.
And what a year it was. This Council really got on it, from the start. Here are a few of their "accomplishments:"
What a year indeed. Well, if you already did not have enough reasons to vote no on Measure D, just read the above one more time… I wonder if Santa Claus has enough coal for everyone on the Santa Ana City Council? Well, except for Councilwoman Martinez. No coal for her!