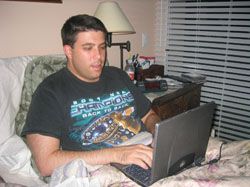 I don't normally read the Flash Report, but a current story caught my eye, while I was cruising the BNN headlines.
Jon Fleischman, the editor of the Flash Report, is at the California GOP convention, where he listened to Governor Arnold Schwarzenegger as he told the audience that the CA GOP needs to stop pushing social issues that most Californians don't care about.
You can read the rest of Schwarzenegger's remarks at my previous post.
Here are a few excerpts from Fleischman's post:
In short, the Governor came before us, declared that the State GOP was in trouble, and in essence prescribed that the 'cure' for our party's ills is to move to the left on major policy issues in order to capture the political center.
Frankly, and to be honest, I couldn't disagree more. First and foremost, the purpose of a political party is to achieve it's public policy goals. No where in our goal is a massive and costly government 'intervention' in California's health-care delivery.
Anyways, pretty much everyone I spoke to tonight feels that the Governor was dead-wrong in his remarks and it certainly cast a pall on evening from those who were expecting much more uplifting remarks.
Fortunately two other Republican Governors spoke at the dinner, Governor Christ of Florida and Governor Perry of Texas. While I was not there for their speeches, I understand both were met with rousing applause and accolades. Perry specifically defied Schwarzenegger by talking about the importance of the GOP sticking to its guns.
Typical response from a guy who in a year or two won't be able to find any work in California.
Has Fleischman forgotten what happened in the last few elections? Schwarzenegger's conservative ballot measures a few years back completely tanked. And the Governor and moderate Steve Poizner were the only Reeps to win in the last statewide elections. The conservatives never had a chance.
But guys like Fleischman can't let go of the glory days of yesteryear, when they all had nice jobs in Sacramento. Those days are long gone – and they won't be back in our lifetimes. Had the CA GOP stuck to the sort of issues that Schwarzenegger is pushing, it would be totally different, but too many moderate Republicans have lost faith in their sinking party and gone independent.
And of course guys like Fleischman won't let independents vote in the presidential primary – a move that will be the last nail in their party's coffin.
Hang on to your dreams of yesterday Fleischman, that's all you have left. Eventually you won't have a reason to get out of bed anymore (see picture above).