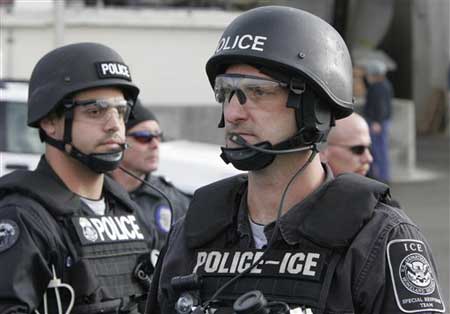 In my quest to stop immigrant bashing I came across a story about two federal agencies who have a disagreement as to what to do with them. (Thank you to my anon source for sending me this story).
According to an online newspaper, "the Census Bureau wants immigration agents to suspend enforcement raids during the population count, the Census Bureau's second-ranking official said in an Associated Press interview."
"Deputy Director Preston Jay Waite said immigration enforcement officials did not conduct raids for several months before and after the 2000 census. But today's political climate is even more volatile on the issue of illegal immigration."
It sure is, thanks to Republicans like Mimi Walters, Harry Sidhu, John Paul Ledesma and Rudy Giuliani. They just can't stop bashing immigrants in order to curry favor from Minuteman voters.
Consider what Republican Congresswoman Candice Miller, of Michigan, has to say about this, "it's nuts for the Census Bureau to ask for a break in enforcement."
"I don't know what country the Census Bureau is living in," Rep. Candice Miller, R-Mich., said in a telephone interview from her district. "I can tell them the American people have grown sick and tired of their immigration laws not being enforced. They are not going to tolerate enforcement being suspended for any amount of time."
Well Congresswoman Miller, most of the immigrants came here during the Bush administration. Bush and the federales looked the other way so home builders could get cheap labor. Now that the real estate market is tanking, the federales want to get rid of their cheap labor.
Furthermore, "The Constitution requires the Census Bureau to count everyone, including illegal immigrants. The once-a-decade population count is then used to apportion seats in Congress and to appropriate billions of dollars in federal spending each year."
"Miller has introduced a constitutional amendment that would apportion seats in Congress based only on the number of U.S. citizens in each state."
Of course she does – what a great way for her state to compete with more populous states. But no dice Congresswoman Miller. Your amendment is going as far as Tom Tancredo's presidential campaign.
"The Census Bureau has a job to do," said Vargas, who belongs to a committee that advises the bureau on the 2010 census. "They need to convince people that they need to report themselves to the federal government and that it's going to remain confidential. That's a hard sell."
It is indeed. I can't blame immigrants for hiding when the federales call. But at least they do count when it comes to the U.S. Census.