The Santa Ana City Council meeting tonight was somewhat anticlimactic. They voted yes on everything – with the exception of Councilwoman Michele Martinez's "no" vote on the new budget.
Councilman Sal Tinajero was excused. He was in Wichita, Kansas, coaching a team of students form the high school he works at, in a speech competition.
While Tinajero wasn't there, the City's youth were – in full force. A number of youthful protesters showed up to ask the City Council to support more youth programs. While they eventually left disappointed, it was encouraging to see our young people take part in the political process.
Council votes to raise trash rates
I was disappointed when the entire City Council voted to raise the trash rates. Consider that, according to the California Secretary of State, the following Council Members accepted money from the City's trash company, Waste Management, in 2006:
David Benavides, $1,000
Carlos Bustamante, $249
Miguel Pulido, $249
Waste Management also gave money to a couple of Pulido's puppet candidates in 2006:
Jennifer Villasenor, $1,000
Tino Rivera, $249
And they gave Carlos Bustamante $1,500 for his Supervisorial campaign last year.
It looks like their investment paid off tonight.
I was a bit surprised that Councilwoman Michele Martinez also supported the trash rate increase. In fact she moved to approve the increase – and the Council voted unanimously for the increase.
Council votes to fine owners of barking dogs
The City Council also voted to approve the ordinance that will fine the owners of dogs who bark too much – and the fines will go up to $1,000 if dog owners do not feed or water their dogs as well.
I spoke to the Council about this measure prior to the vote. I asked them to consider warning people prior to fining them. Amazingly, they heeded my counsel and Mayor Pro Tem Claudia Alvarez amended the measure to include a warning prior to a fine being issued.
Stop funding the Chamber's propaganda!
I spoke to the City Council prior to their vote on the budget – and I was followed by over a dozen other speakers. I asked the City Council to consider rescinding the $85,000 they give to the Santa Ana Chamber of Commerce for distribution of their CityLine newspaper. I noted that last year the CityLine included political advertisements for the candidates favored by the Chamber – all of them Pulido puppets.
Maybe one day we will see Santa Ana Chamber of Commerce President Mike Metzler washing cars and selling cookies to raise money for his organization but not this year. As usual, they will be getting a load of money – and local taxpayers will be getting nothing while the Chamber continues to hype their friends on the Council.
I also asked the City Council to reconsider the $2 million they give to the Bowers Museum, noting that the people of Santa Ana have other more important needs, such as improving our roads and parks, building more libraries and funding more youth programs.
Councilman Carlos Bustamante came unglued in his response to me. He defended the CityLine, saying that they only publish ads about Council campaigns every two years, in an insert, and the City does not pay to publish said insert. But we do pay to mail it to CityLine recipients. Bustamante conveniently failed to mention that.
Bustamante says he was a Rentacop!
Bustamante also said he was a security guard at the Bowers when he was in high school. That's right – Bustamante was a "Rentacop!" That figures.
He then said that the Bowers serves 50,000 students a year. He failed to note that the Bowers website states very clearly that students have to pay to go to the Bowers. Only children under six get in free. But they better not touch anything!
Bustamante did harp on the fact that Santa Ana residents can go to the Bowers for free on the second and last Tuesday of the month. But he failed to admit that the funding for that program does not come from the city's agreement with the Bower's board. Instead, it is funded by grants from dead people who left money to the Bowers.
City Commisioner Tish Leon later made "Rentacop" Bustamante eat his words, during public comments, when she pointed out that he, as a member of the Bowers' Advisory Committee, ought to know that even though Santa Ana residents can go to the Bowers for free twice a month – that does not include their new wing. Oops! Bustamante looked like he was having a stroke when Leon dropped that on him.
Councilman Vince Sarmiento, unlike Bustamante, actually spoke with intelligence on the matter. He admitted that there is a need to reassess this spending and that the Council's Finance Committee is going to do just that. They are going to look at the City's return on investment from their expenditures on the CityLine and the Bowers. Thank you Councilman Sarmiento!
Councilman David Benavides actually tried to help Councilwoman Michele Martinez when she asked the City Council to amend their budget to include about a million dollars for a youth employment program, recreation programs designed to help fight obesity in children, community art murals, and bringing back the Bookmobiles.
Unfortunately, Mayor Pulido and the other Council Members voted against the motion. Council Member Claudia Alvarez in particular was totally condescending, as we have come to expect. And in the end only Councilwoman Martinez voted against the budget.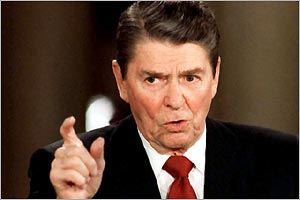 Claudio quotes President Ronald Reagan!
Maybe the Hull-Richters are right about my co-blogger Claudio Gallegos! He quoted President Ronald Reagan when talking to the City Council about the fence that the Santa Ana Unified School District wants to put up around their new high school at Centennial Park. Gallegos asked the Mayor to "tear down that fence!" And a lot of folks in attendance agreed with that sentiment.