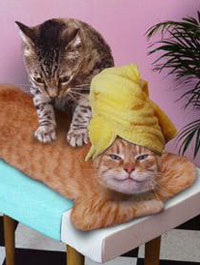 Well, we can all rest easy now. The Santa Ana City Council votes last night to "stop issuing permits for massage technicians and businesses for the next 45 days," according to the O.C. Register.
Apparently federal and state officials have recently been cracking down on massage parlors that are actually houses of ill repute, and the faux massage technicians packed up and headed for Santa Ana.
The Register reported that Councilwoman Claudia Alvarez said, "We have received over 20 applications this year alone based on them being driven out of other cities."
I guess the massage prostitutes didn't understand the phrase "free enterprise zone."
You have to wonder why state, federal and local officials are spending so much time and resources to stop the apparently rampant "happy endings" in Orange County cities such as Anaheim, Tustin, Orange and Dana Point, which is where the raids occurred.
Was there no other violent crime to go after?
We have a gang violence crisis in our city that is out of control – exactly how does this move help with that?
I imagine that the Santa Ana City Council had no choice given the pressure they received from state and federal officials, but this whole massage crisis is ridiculous on its face. It tells you a lot about the misplaced priorities of our government.
If the same federal and state officials put half this effort into solving the gang problem we would all be a lot better off for it. Instead, those of us who legitimately need massage services, often for chronic back and neck pain, will likely have to pay more for those services now that the market has been artificially constricted.
Now we all know that nature abhors a vacuum. Prostitution exists because there is a market for it. This sweep did nothing to stop the demand. It just pinched off the supply. That supply will resurface somewhere else, in some other sort of business. It always does.