.
.
.
I think we've announced Derrick's "homeless feeds" on this blog once or twice.  Oh yeah, here it is.  A 13-year old Anaheim boy who's been very concerned about the plight of the homeless since he was five, he's spent every birthday since then – every May 9 – feeding all the homeless that he and his family can.  It's what he loves to do.
I know we've written about his mother Corie Cline, a police reform advocate who has probably prevented several tragedies in her section of Anaheim with her Filming of the Police and talking-people-down skills – tragedies like the 2007 killing of her brother Joe Whitehouse by APD officers Sheddi Skeete and Ryan Tisdale.  But THIS story is about 13-year old Derrick, and his service dog Lucy.
Derrick doesn't believe he can do the traditional "feed" this coming May 9 – he'll give out sack lunches instead, but this year his concentration is focused on keeping Lucy alive.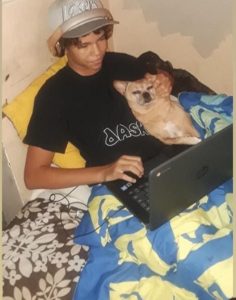 Derrick has autism, and other mental health issues. His 7-year old service dog and best friend Lucy has cancer – a lump on her face the size of two golf balls. She has an oncologist appointment Feb. 11. Derrick is devastated – he fears Lucy will die and leave him behind.
The Cline family thanks you for taking your time out to read this story; and would appreciate it if you click on the GoFundMe for Lucy's operation.  Everything donated will be going to the care of Lucy for her surgery and any other medical treatment that will bring her back to health afterwards.  Please share this as well, it will mean a lot to Derrick, to know there are people out there caring and praying for the wellness of his best friend.