.
.
.
The Trump Party Convention coming up next week; its first night is entitled "Our Heroes."  You can bet that we'll be hearing fiery fusillades from supporters of the Lawlessness and Disorder President about the need for unquestioning and unstinting love and support for the police — including (and perhaps especially) their most outrageous and unjust practices.
On Friday afternoon, I [Greg] came upon a reference in Facebook to this Twitter thread on reforming police practices.  I checked it out — and was absolutely bowled over.  This is exactly something we've needed to hear in the wake of the George Floyd killing,  Whether or not the author agree with me, I think it's wholly consistent with the calls to transfer aspects of policing to other (unarmed) actors.  (Calling these twelve proposals "Doucette's Dozen" is my framing.)
"Revolution" (like "Defund the police!") is generally sexier (though less achievable and controllable) than reform, but the two can work hand in hand.  This rational reform agenda certainly is amenable to that.  These ideas aren't brand new — Chairman Vern has often addressed most of them here, and I worked on some of these issues as an attorney in Giuliani's New York — but their collection into a coherent whole, and the reasoned discussion behind them, are devastating.  You can send this around to even your most conservative relatives and they should get it.  Tou can demand that Biden and Harris sign onto these proposals — as they should … and, if they're smart about it, they might!
I think of this collection as the rational foundation upon which all reasonable people should be able to agree, after which we can see how much we can transfer to counselors, social workers, and community leaders — and how much we can't.  It's not anti-police at all: it's anti-bad police, and I keep hearing how good cops are supposed to like that.  (Such reform would certainly make their jobs — which include the lasting effects of psychological harm at the involvement of decent cops in terrible wrongs — a lot easier and more palatable.
To be comprehensive about reform , I'd add some more controversial topics to this list — police abuse of women and LGBT people (murder and shootings are, after all, just a subset of abuse); reform of police DNA testing; police abuse of polygraphs; the Blue Wall of Silence, etc.)  But for the sorts of state-controlled terrorizing of ethnic and racial minorities  that have been at the forefront of this year's news, this is as well-considered, clear, thoughtful, persuasive, comprehensive, and readable a presentation of these issues as I've ever seen.
[Ed. Note:  This post is taken from a Twitter feed posted about three months ago (May 28, 2020) by T. Greg Doucette, whose apparent nickname is "Tyrannosaurus."  I'm editing out the repetitive Twitter @crap and just keeping the text and images, with the intention of education and discussion.  This tweet storm was a response to a question posed by Sailor Brendan (a pseudonym); while it's done pretty well, it deserves a lot more circulation and permanence (and especially ease of use) than it's likely to receive on Twitter alone.  I have edited lightly to correct a very few obvious grammar errors and reformatted it to make it more easily read and presentable in this medium.  Starting below the horizontal line, if it ain't in brackets it ain't mine!  — GAD]
But first: who wrote these tweets?
Here are the most relevant people on this thread, and their Twitter bios.  Brendan asked the very good question, Doucette came up with this awesome answer, and Neily gets cited for good research:
T. Greg "Tyrannosaurus" Doucette
  (
@greg_doucette)
Ex-computer scientist, now criminal defense & 1A attorney in NC+TX. Host of @fsckemall. Dog lover. #NeverTrump conservative. Proud alum of @NCCU and @NCState. 
Sailor Brendan (
@SailorBrendan)
sailor, awkward political junkie, trying to do some good. Not great at twitter but I'm trying. My words are my own and I'll take responsibility for them
Clark Neily (@ConLawWarrior)
Sailor Brendan's original request for other's thoughts on police reform is just below the line:
I don't expect I'm gonna get a lot of traction, but I'd really love it if some folks in #LawEnforcement or #lawyers wanted to jump in and give us a set of concrete steps we can take to deal with the takeover of the legal and justice systems by white nationalists. 1/
99 comments, 
3.7K retweets, 
4.6K likes
I'm not a historian or political science guru – I tag in Prof. @KevinMKruse for those things – but my assumption is that ethnonationalists / neo-Nazis / etc join police because of the unchecked power police have these days to terrorize minorities 2/
So reduce that power – and hold police accountable for abusing it – and you reduce the allure to those folks pretty quick And on that front, the to-do list is quite long 3/
 6
1. Abolish qualified immunity
QI is a doctrine created from scratch by judges. It was never enacted into law by a legislature or signed by an executive; judges created it on their own And it protects police from being held accountable for their bad judgment 4/
Qualified immunity means a policeman cannot be sued civilly for violating your rights – killing you, brutalizing you, etc – unless that right was "clearly established" at the time of the violation What does "clearly established" mean? Whatever a judge wants 5/
For example, police in California were sued b/c they stole $100K+ in rare coins while executing a search warrant They received QI – the case was dismissed – because "stealing during a search" was not "clearly established" as illegal 6/
In today's criminal justice news, the Ninth Circuit Court of Appeals holds police officers can *steal $100K+ of someone's property* and still be protected by qualified immunity to avoid any accountability because it's "not clearly established" that cops stealing is illegal twitter.com/ConLawWarrior/…
320 
Retweets and comments
In practice, almost nothing at all is ever "clearly established" If a police officer chokes someone to death for sport, you'd say "killing for sport is illegal!" Then a judge'd say "just killing them with his shin, not with his knee" 7/
Have some qualified immunity examples There are hundreds upon hundreds more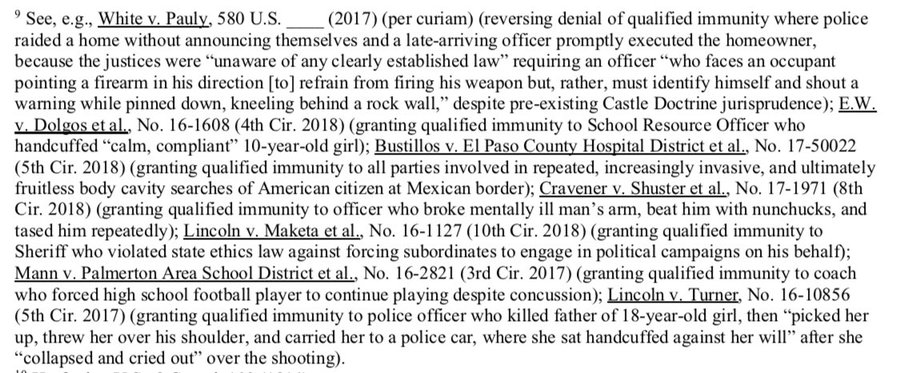 And because qualified immunity is what's called an immunity "from suit," it means those cases get dismissed early and never make it to discovery or trial, meaning facts almost never come out to define what will be "clearly established" in the future 8/
Reuters had an exceptionally thorough deep dive on qualified immunity just a couple weeks ago Read this when your time permits; it's very long, but highlights how pernicious the doctrine is 9/
The U.S. high court's continual refinement of an obscure doctrine called qualified immunity has made it harder to hold police liable for excessive force.  

reuters.com
[Probably should have mentioned it earlier in the thread, but the vast majority of what you're going to see on this list requires legislative action at some level and a willing executive to implement it. So none of this will happen soon without voting.] 10/
3
2. 

Require police for carry malpractice insurance
Require police for carry malpractice insurance We require it for doctors, pharmacists, and other professions where you could be killed by incompetence or malice. Police should be no different 11/
Requiring police to carry insurance serves two goals at the same time: (A) it protects taxpayers from having to shell out $$$$$$$$ in settlement money and (B) insurance rates for individual officers will rise based on how bad they are 12/
If you're like the mongrel-with-a-badge who murdered #GeorgeFloyd – with several prior brutality incidents on your record – the cost for a city to insure you eventually hits a point where you're not worth the expense, and become unemployable as a cop 13/
3. Use pay incentives to get a better breed of police officer
  Use pay incentives to get a better breed of police officer Did you know most states only require cops to have a high school diploma? And the police academy is typically only 6-8 weeks long? You end up with a lot of young bad cops who become old bad cops 15/
Police should have at least a 4-year college degree. Not b/c those degrees are particularly relevant to the job, but b/c the life experience from being in college for that timespan – being around people who aren't like you, navigating conflict, etc – matters 16/
But if a state won't require that baseline legislatively, departments can accomplish the same goal by offering a pay bump (similar to what many localities do for teachers with advanced degrees) 17/
 3
4.  

Incentivize community policing
Same concept as pay bumps for degrees, but in this case offered to police who actually live in the neighborhoods they patrol 18/
6
143
823
Police officers are less likely to escalate and kill people when it's their neighbors that they're dealing with 19/
6
5. 

Make "Brady lists" public record
  Every District Attorney's Office in the country knows which cops on which police forces are documented liars who can't be trusted to provide sworn testimony in court They end up on what are dubbed "Brady lists" 20/
The name is a reference to the Brady v Maryland case by the Supreme Court, which ruled the Government has to turn over all evidence that tends to exonerate someone accused of a crime.  Here, though, it's a misnomer: most Brady lists aren't disclosed at all 21/
They're not given to defense attorneys, and they're never ever ever ever (ever) given to the public When California recently enacted new laws to make this info known, police unions went apesh*t and sued to block the laws from taking effect 22/
I'd argue *all* records of police misconduct should be publicly accessible. But if that's a bridge too far, at the very list it should include officers who are too dishonest to be trusted in court 23/
 7
133
857
6.  Abolish cities' sweetheart deals with police unions
Your head would spin at some of the sh*t police get away with because it's written into their contracts that they can.    @deray, @samswey, @ClintSmithIII, and several others have written about this often 24/
3
The ability to hop / skip / jump from department to department as officers are fired Elaborate termination procedures that block their firing in the first place, or enable them to easily get reinstated with back pay The list goes on 25/
 3
Check The Police    (checkthepolice.org)
The Police Union Contract Project investigates how police union contracts block accountability.
7.  Require de-escalation in Use of Force policies
Require de-escalation in Use of Force policies alongside public, transparent training on de-escalation.  Police these days operate like paramilitary units, complete with military gear and recruitment videos that promote a "domestic warfare" mindset 27/
Except the military has rules of engagement, a Uniform Code of Military Justice, and courts martial that will punish you severely for misconduct, Police have qualified immunity, a "Blue Lives Matter" PR apparatus, and oodles of case law to protect them 28/
Cities and states can modify guidelines on when and how police can use force, and when they can escalate That needs to be flipped on its head, to promote de-escalation and the preservation of life as the overriding concern 29/
4
On this one, check out http://useofforceproject.org 30/
 8. End "tail-light policing"
End "tail-light policing" entirely A large number of police brutality incidents – and the corresponding court cases that have eroded Fourth Amendment rights – come from traffic stops 31/
You can see similar results in the states contained in the http://OpenDataPolicing.com website (covering a combined 49,000,000 traffic stops across 3 states) 33/
1
32
319
Nearly all of those stops don't actually have to happen. They're done to provide a basis for fishing expeditions by the Government, and to raise money via citations
Nothing at all to do with public safety 34/
5
55
454
Reduce the incidence of police interaction with citizens and you reduce the number of opportunities bad police have to kill someone 35/
2
42
385
After analyzing 95 million traffic stop records, filed by officers with 21 state patrol agencies and 35 municipal police forces from 2011 to 2018, a Stanford-led research team concluded that 'police…
Nearly all of those stops don't actually have to happen. They're done to provide a basis for fishing expeditions by the Government, and to raise money via citations Nothing at all to do with public safety 34/
Reduce the incidence of police interaction with citizens and you reduce the number of opportunities bad police have to kill someone 35/
9. Separate Depts' Crime Response & Investigative Units
Mandate a separation between the crime response units and investigative units in a department I quite literally can't count how many times I've tweeted about police officers caught on camera planting evidence 36/
For most departments, most of the time, the responding officer becomes the arresting officer who then testifies in court about the crime This incentivizes lying: planting evidence, making sh*t up on police reports, lying under oath in court All to "win" 37/
The bona fide first responders to a scene – often to situations where emotions run high – shouldn't be the ones quarterbacking evidence collection too
The bona fide first responders to a scene – often to situations where emotions run high – shouldn't be the ones quarterbacking evidence collection too 38/
10. 

Automatic special prosecutors for police brutality incidents
Automatic special prosecutors for all police brutality incidents So-called "line" prosecutors – the ones in the courtrooms every day trying cases – come to rely on the police they work with regularly So they'll almost never prosecute them for wrongdoing 39/
If there's ever an incident of alleged police misconduct – everything from a beating to a murder – a special prosecutor from outside that jurisdiction should be assigned to review it and decide if charges are warranted 40/
11.  

More frequent USDOJ intervention
More frequent USDOJ intervention Tying in with #10, most states think police are infallible and will never prosecute – or they'll do a deliberately sh*t job so the officer is found not guilty The Feds need to be more willing to prosecute in those cases 41/
Federal prosecutions for criminal violations of civil rights laws were instrumental in helping curtail killings during the Civil Rights Era We've got the same sort of killings happening now, it's just Government employees doing it 42/
Expand data collection and mandatory reporting on use-of-force incidents (and other police activity generally) Remember that traffic stop a few tweets up? Most states have developed uniform traffic reports to systematize data collection Do it elsewhere 43/
Unless something's been developed in the past couple years and I've missed it, there is no uniform standard of what data to collect for non-traffic police activity – including incidents where force is used There is also no req for that info to be reported 44/
If there's ever an incident of alleged police misconduct – everything from a beating to a murder – a special prosecutor from outside that jurisdiction should be assigned to review it and decide if charges are warranted 40/
More frequent USDOJ intervention Tying in with #10, most states think police are infallible and will never prosecute – or they'll do a deliberately sh*t job so the officer is found not guilty The Feds need to be more willing to prosecute in those cases 41/
Expand data collection and mandatory reporting on use-of-force incidents (and other police activity generally) Remember that traffic stop a few tweets up? Most states have developed uniform traffic reports to systematize data collection Do it elsewhere 43/
Unless something's been developed in the past couple years and I've missed it, there is no uniform standard of what data to collect for non-traffic police activity – including incidents where force is used There is also no req for that info to be reported 44/