.
.
.
You know, I wouldn't mind not talking about Lenore Albert for a while.  But:
She has continued to be a player in the county political scene
Particularly because she essentially served former DA Tony Rackauckas in his race against Todd Spitzer (and, earlier, Brett Murdock)
And she also did so to try to slant the races for former state Democratic Party State Chair Eric Bauman and to a lesser extent new Chair Rusty Hicks
So, unfortunately, she's still newsworthy.  That's why occasionally, such as when I paid my bar dues at the beginning of the month, I look to see whether there was anything new in her fight against the State Bar.
Sometimes there isn't.  This time, there was — filed just a few days before.
The California State Bar has brought charges against Lenore in two more cases — and as a matter of consumer protection for future possible clients, people should know what they are.
Here they are (I hope and believe I got everything into these screenshots, which you may want to enlarge):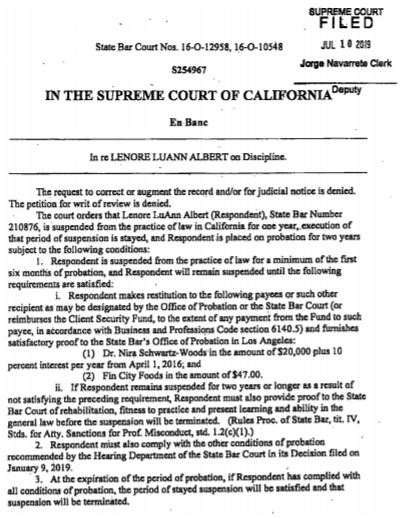 The bottom complaint, #45, is just another client saying that, in mid-2017,  Lenore took at least $5,100 from him in advanced fees and didn't provide him with the contracted services, didn't account for the money, and didn't refund the money.  Pretty standard stuff, except for the context of her previous actions.
But the top complaint, #44, is eye-popping.
It lists the conditions that Lenore would have to meet in order to get her probation removed.  Unless I'm misreading it, she not only hasn't done the hard stuff, like paying back $20,000 plus interest, but she hasn't even done the easy stuff, like paying back $47 and keeping in touch with her probation officer.
At some point, the way things are going, Lenore ultimately gets disbarred.  (I'm surprised that is hasn't happened already.)  You can't continually shine on the State Bar and expect to be a lawyer.  (She recently had an appeal go to the U.S. Supreme Court.  They didn't take the case.)
Maybe that's result she wants, because she certainly seems to be bringing it upon herself in a welcoming manner.
The papers speak for themselves.  My question at this point is: Where are her friends?
I'm not trying to give an expert opinion when I say that Lenore is delusional; it's just my personal opinion based on observation of her in legal practice.  (Her pattern seems to involve losing cases and then spinning them as if they were really wins.  She's a pretty decent spinner.)
But unless she has a whole store of money hidden away somewhere (hidden, in particular, from the bankruptcy court), giving up her license for no good reason seems like a questionable career choice.
As I've said before: kept under strong supervision, she has some real talents. But she's going to lose the ability to use them because she apparently wants to be a martyr — or thinks that she can sue others for damages when she's who ruined her own career.
Where are her friends?
This woman clearly needs help.  She is not thinking clearly.  Her supposed friends should be able to figure this out pretty easily and help guide her to relative safety and sanity.
I've reached out to her privately over the years — and in her mind I'm her enemy — telling her how things were going to obviously play out and suggesting other choices she could make.
Has even one friend — Chumley, Ray Cordova, etc. — ever tried to do the same?
Or, for whatever reason, do they just prefer her forlorn, deluded, and headed for disaster?  I just don't get it.