.
.
.
(1) The Content of His Character
In my inbox from Harley Rouda, 6:02 p.m. Feb. 28:
It's how the civil rights movement started. It's how we fought for clean air and water. And it's how the students in Parkland, Florida are taking on the NRA.

People power.

We're building this campaign in backyards and living rooms, in coffee shops and union halls. We're going to change the world, neighbor to neighbor, one conversation and one vote at a time.

Chip in $8 and help us grow our grassroots movement to take back Congress.
Holy moley, what khutzpah!  Yeah, sure, it's just like Dr. King in Montgomery — and it's even more similar, given the seeding by PR professionals, to how the Trump campaign started.  It is probably no coincidence that — less than six hours after Rouda asserted that his drive to win the CA-48 nomination despite being rejected by CDP delegates was in the spirit and model of the Civil Right Movement (!!!), "so give him $8" — Black History Month suddenly ended.
(2) Why, Why, WHY DId Keirstead Meet With Lenore "Not-Yet-Suspended" Albert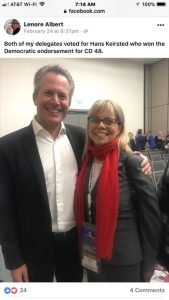 Rouda's nemesis Hans Keirstead is the CDP-endorsed candidate in CA-48, so I am not supposed to endorse anyone else in this race nor derogate him as a candidate.  I believe that I can still report facts, though, and I'd love to see either the local or state party try to tell me otherwise.  So: I have asked literally a half a dozen people to ask Keirstead to get in touch with me to explain why he and his Political Director Anita Narayana met with not-yet-suspended attorney Lenore Albert-Sheridan at a Starbucks in Huntington Beach last month.
What common interest were they pursuing?  They won't say.  So just to remind Keirstead of the continuing costs of leaving this rendezvous unexplained: Lenore apparently decided to step in and represent the former wife of Victor Valladares in a custody hearing this morning, reportedly filing a 67-page brief (!) that I just cannot wait to have in my hands.
A reminder: anonymous character assassins at Liberal OC and it's apparent natural ally — a white-power site in Huntington Beach that hates Victor — have been trying to push a story claiming (without a shred of actual evidence and with no one willing to complain to police under their real name) a story implicating Victor as a sex criminal.  They even have a tape, they say implausibly.  These same anonymous cowards have repeatedly and unsuccessfully tried to seed their defamation of Victor on this blog — leading to complaints that we are "censoring" them — AND recently tried to push the local Democratic Party to summarily cut all of its ties with Victor on this basis.  (That hasn't happened.  Due process, you know.)
Child custody disputes are horrible — the bogus charges that Darrell Issa dreamed up against Douglas Applegate in 2016, which Mike Levin's supporters have embraced so tightly that Applegate's wife has had to publicly come forward to defend her ex-husband and scold them for lying, are another example of their corrosiveness — and it's no surprise that a hyena like Lenore would be attracted to this one.  The question is whether Hans wants to leave the impression that — by keeping his association with Lenore as she attacks Rouda supporter Victor — he is having Lenore and her de facto allies in the white power movement do his dirty work.
Call me, Hans!  My number is in my listing in the California Bar Attorneys list — and you can look up Lenore while you're there!
(3) My Compliments to Andy Thorburn, Gil Cisneros, and Mai-Khanh Tran in CA-39
Yesterday, Herbert Lee joined Suzy Park Leggett as the only two people — both of them Democrats — to have filed their Declarations of Candidacy in the race to replace Ed Royce.  (Note: I've only checked the OC ROV so far in writing this.)
I've been hard in the past on deci-billionaires Andy Thorburn and Gil Cisneros and on Dr. Mai Khanh Tran for what I expected would be their bigfooting into the race — getting in quickly and creating a "fact on the ground" around which others would have to navigate — despite each of them having plentiful other and better options to run elsewhere, promising not to support them (or anyone else) at all if they did so.  (There's no real need — remember, because Royce is still eligible to run but won't, filing ends on March 14 rather then March 9.  One can decide to jump in after almost every other race has closed.)
Well, I doubt that it had much to do with me — maybe with other Democrats — but all three of the above wealthy candidates have shown unexpected and admirable restraint.  They all made it through February without making an unbreakable commitment to be on the ballot and split the Democratic vote — likely leading to an R-on-R (or an R-on-NPP) runoff.  I recognize this, I admire it, and I thank them for it.
(4) Brian Forde Pays His Fee in CA-45
Only Mimi Walters and Katie Porter have filed their candidacy in this race.  (Porter was what game theorists call a "defector."  No thanks due to her.  Dave Min hasn't even yet taken out papers!)  Brian Forde and Kia Hamadanchy are the other Democratic competitors — and this is an advance on Forde's part.  If one of them drops out, I honestly think that the other might be able to ride the "disgusted with the UCI professors" vote to victory.
(5) Nothing Much Happened in CA-46
An NPP named Will Johnson has paid his fee. splitting the NPP vote with Ed Rushman.
(6) Doug Applegate on the OCROV Board in CA-49
Applegate doesn't have to file with the OCROV, being a San Diegan, but it would be foolish not to and he ain't no fool.
(7) Democrat Melissa Fazli Challenges Greg Fritchle in AD-55
Gregg Fritchle told me at the convention that he will not step aside for Melissa Fazli, as he doesn't see her as more likely to win than he is.  (We'll see what happens if one of the wealthy CA-39 candidates switches to this race!)  Fazli has now paid her fee, but. since Fritchle won at the preendossment meeting, party delegates cannot support her without the threat of losing their positions.  Republican Scott Lebda has also paid his fee for the race.
More as it develops!