.
.
.
Damn it!  ANOTHER premature, unexpected, fatal heart attack?  Yet another local pro-environment, anti-Poseidon, overdevelopment-and-corruption-opposing West County activist felled by a surprise cardiac arrest?  Gus Ayer a few years ago, J M Ivler a few months ago, and now the mighty King Clem Dominguez?
Good thing we have younger activists – particularly young activists of color – stepping into the breach against Poseidon etc., like our friends from the Oak View Comunidad who are demolishing the arguments of vendido Hispanics that the boondoggle constitutes some sort of "environmental justice for Latinos."  But if I were Victor and Oscar and amigos, I would watch my back, and hire a food taster!  I half joke.  In deep sadness.
Clem was found by his family, who were concerned about his not answering their calls, peacefully deceased in his apartment, having suffered either a heart attack or massive stroke probably on March 13.  If he'd-a hung on another ten days (till today, the 23rd!) he would have been 73.  Knowing him as I have the last few years, I figured he must have led a fascinating and colorful life.  And I figured right…
A Long Island Childhood
Lindenhurst is a small seafaring village on the southern shore of Long Island in the town of Babylon, and that's where our hero was born in 1944, to Clement and Julia Dominguez.
Clement worked as a mechanic in the merchant marines, and then as an electrician, building "electrical boards," the precursor to the computers Clem would later specialize in.  He made just enough for the family to get by, and didn't like his wife to have to work, but she did anyway when he wasn't paying attention.  
Once this happened:  the day before Christmas she asked him for a ride to pick up presents for the kids (Clem and his big sister Pat.)  "What presents?"  She had been secretly working for a few months just so there would be Christmas presents.
Daddy Clement was even shorter than Clem would turn out to be (5'3″), but he was muscular, a boxer and wrestler, and a heavy drinker who died of cirrhosis at the age of 53.  This didn't slow down Clem, who drank till the age of 50 (1994, when his own daughter joined the army) and then lived largely sober till he died last week at almost 73.
We're in the Navy Now…
Gutsy thing, to volunteer for the military in 1964 right when Vietnam is starting to pick up… but still young Clem dodged a bullet, being sent instead on an experimental two-year multinational "mission," on the Claude V Ricketts missile destroyer with sailors from seven different countries.  This was something planned by President Kennedy (just before his assassination) early in the history of NATO, meant to get men and women of different nations used to serving on the same team.  
You can get the feel of it by just watching the first few minutes of this charming old-school newsreel;  you see young Clem at 4:46 at the left of the screen;  at 15:00 the narrator intones:
"To clear skies darkened by the constant threat of sudden attack, a multilateral nuclear fleet has been proposed.  This new proposal offers nations of the North Atlantic community greater participation in, and greater responsibility for, their own defense.  This destroyer demonstrates the feasibility of one part of the proposal, viewed by its proponents as a less dangerous, less costly way to clear the threat of aggression from Atlantic community skies."
Here's the story Clem's son remembers best from that expedition:  Later in life, he was known as a good listener, the best listener on the Planning Commission.  
But when he was young he didn't listen to anything, his head was too full of his own thoughts.  So he somehow missed the instructions of what he was supposed to do when he was on night watch, and saw land getting closer, closer, closer… Long story short, the ship went aground on his watch.
Still, apart from that little wrinkle, he did well enough that the Navy asked him to captain a PT boat in Vietnam.  By that point, enough word had gotten around about what a bullshit pointless meat-grinder THAT war was becoming, that King Clem respectfully said "No thank you," and returned to civilian life in Lindenhurst.  (And he later wrote a book about the whole experience, the first of six books he'd write in his life.)
When Clem met Sue
Clem opposed the Vietnam War and listened to a lot of Bob Dylan in those days, but he didn't really get involved much in protests.  In the eight years he stayed on Long Island after the Navy, he began to surf a lot, and go clamming with his dad on their boat "Jewel" named after his mother Julia.  
A friend suggested he attend college on the GI bill, something that had never occurred to him because the nuns in Catholic school had told him he was "too stupid to go to college."  So he got himself a degree in political science at Adelphi, and began working for the Long Island Railroad on computers, as a software designer and systems analyst, which would be his occupation for life.  He frequently got bored working for the Railroad, and tried to quit, but he was so valuable to them that they always offered him a promotion and raise, so he stayed.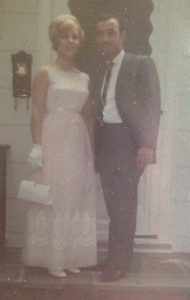 He met Sue, who was to become his wife for 17 years but would always remain his best friend, on a blind date.  She would never forget this trippy 5'3″ guy showing up in a Zoot Suit.  They missed the legendary, nearby, 1969 rock festival "Woodstock," because Clem worried that it would be "too crowded," LOL.  But they got married the week after, and the musicians for their wedding had all been there.
More and more Clem and Sue would hear tales of "Surf City" out on the West coast, otherwise known as Huntington Beach, and dreamed of heading out there to surf.  Finally in 1972, Clem requested 30 days off from the Railroad to visit HB, and his request was denied.  Well, this was the last straw, Clem quit, he and Sue packed up their VW bus, headed across the country to Surf City, and the rest as they say is history.
But we do history here, so let's keep going…
The Huntington Beach years, 1972-2017
The Daily Pilot quoted Clem:  "My main focus in life is my family, surfing, community and business in that order."  I don't have too much to say about surfing, which he and his family did every chance they'd get.  [UPDATE 4/16 – just came across a text from "Prince Clem" that had escaped my notice:  "Hey Vern if possible please mention that he won the Grandmaster HB Surf Contest!"]  I guess the outspoken activism we all know and loved him for falls under "community."  But Huntington Beach is where he started his family.
In 1975 he and Sue had Genevieve, who would later grow up to join the Army in the 90's.  Three years later they had Clem Edward;  they began to call the boy "Prince Clem" and the father "King Clem," which is where he got his famous nickname.  (This was funny, when you saw how much bigger Prince grew than his dad.)  Then in 1986 the fiercely independent couple divorced – but stayed living close together, never remarried, and remained best friends to the end.  Last year when I tried to plan a musical fundraiser for his water board run, he said, "Yeah!  We could do that in my ex-wife's back yard!"  
Here they are at a musical festival a couple decades ago – Sue was (is) a fine singer and guitarist but she was too shy to go up on the stage.  Clem said, "Fine, then I will."  Everybody was all "No!  You can't sing!"  But it did break the ice and Sue went up later.  (You can hear her laughing throughout this video.)
During the years Clem lived in HB, which included the years I lived there, we had some of the most corrupt councils and mayors in this damn county.  The councilmember NOT owned by developers and the Chamber was RARE and CHERISHED.  We're the only town in the county that's had TWO felon mayors.  The Surf City Clem had come to know and call home in the 70's was slowly being sold off to developers, and Clem would not keep silent about it.  He soon became known as a regular angry gadfly speaker at Council meetings, always fighting to defend the environment (especially Bolsa Chica) and slow down the rampant overdevelopment.
He was especially infuriated by the abuse of "eminent domain," particularly on nearby 3rd street.  "Eminent domain was proper during times like the Civil War when they needed to tear down a house to build a hospital.  It was not intended for what Huntington Beach is using it for now – tearing down old beloved communities and handing the land over to corporations to build condos!"  His kids would frequently flip through TV channels, or a friend would call them:  "You're dad's on TV again."  And frequently the voice from the dais would interrupt, "Mister Dominguez, you are out of time."  And he would fire back, "No, YOU'RE out of time!"  He ran unsuccessfully for council in '88, while I was up in Connecticut or else I probably would have voted for him.
In 1994 he finally stopped drinking his beloved Coors, on the occasion of Genevieve's joining the Army.  Then, predictably, he wrote two books about alcoholism:  "Alcoholism is a Habit Not a Disease:  Sorry but you're not a Disabled Victim," and one called "Drink Your Way Out of Alcoholism" that doesn't seem to be available any more.
But he loved marijuana, and fought for decades for it to be legal.  One of the last things to infuriate him was Obama's Drug Czar examining marijuana's classification last year … and then deciding to keep it "Schedule 1" after all.
Tell Us Some Clem Stories!
A couple of Genevieve's favorite stories, and a couple of "Prince" Clem's:
When it became the law that you had to wear a seatbelt while driving, Clem felt his freedom really trampled upon.  He decided, in a sort of civil disobedience, to create a "Freedom Fund" to which some of his friends donated, to help him pay off all his numerous seatbelt tickets.  But eventually the tickets got too expensive… so he reluctantly started buckling up.
On his fiery temper, Genevieve remembers:  He pulled up briefly to a red zone, to let some friends out of his car with their surfboards, and a meter maid approached to ticket him.  "Hey, I'm just dropping some folks off here!"  "I'm sorry, sir, you stopped your engine so I have to ticket you."  Then he started yelling at the top of his lungs and calling her a Nazi.  Later young Genevieve asked him, "Why did you call that lady a Nazi, dad?"  "I was wrong, Genevieve.  I lost my temper.  I shouldn't have done that."
Prince Clem Edward is more impressed with memories such as these:  "My dad went and bought a speedboat, and he knew NOTHING about mechanics or boats, and he grabbed the whole family and said 'Let's go to Catalina!'  A few miles from the island, I was driving, and I looked down and asked, 'Is this boat SUPPOSED to be full of water??'"  They spent the whole next hour desperately baling out water, and barely made it to the island.  Clem jumped out, helped everyone out of the boat, and they never went back for the boat.
This was typical apparently.  On another occasion he bought an old VW bus, and announced to the whole family, "We're all going to surf up north!  (Presumably the OTHER "Surf City," Santa Cruz.)  Let's drive this old thing till it explodes!"    But as the bus began to sputter, pop, and make sizzling sounds, the responsible father wisely said, "Oh, screw it, let's turn around and go south to San O instead."  And they just barely made it to San Onofre, where they surfed for three weeks and abandoned the bus.
Most of us, though, knew him as the fiercely anti-partisan activist and gadfly who spoke out at Council, kept us informed on his HB blog since 2014, and ran for the Orange County Water District last year against the entrenched super-funded Cathy Green, on a platform of transparency and OPPOSING the POSEIDON DESALINATION BOONDOGGLE, which Cathy Green cherishes.
The Register has it a little wrong, when they write that he "campaigned against the Poseidon water desalination project not out of environmental concern so much as the costs."  That IS how he campaigned, but it suggests he wasn't concerned about the environmental impacts which he certainly was, as a surfer and lover of the ocean – Poseidon's refusal to save fish larvae with subsurface intakes, the expected dead zone of brine output, and the enormous greenhouse gas emissions the plant would put out.  It's just that he, I, and many others have realized that it's more effective to point out the sheer shameless thievery of the Poseidon plan – THAT is something 100% of people care about, unlike the maybe 50% who worry about the environment.  Here, on his blog, Clem explains why he decided to run, and here he is interviewed by Surf City Voice's John Earl, just watch the first six and a half minutes, Clem really did his homework on this:
Pre meeting discussion: Orange County Water District meeting

Posted by Surf City Voice on Wednesday, August 17, 2016
Naturally Clem lost, to the friendly lady with all the name recognition and all the Poseidon/developer money.  But he never stopped speaking out at water board meetings and council, and when Councilman Erik Peterson's Planning Commissioner Michael Hoskinson imploded in a scandal of bizarre Islamophobic and anti-Semitic conspiracy mongering, Erik replaced him with longtime High Density Development fighter Clem!  (My recommendation, although he probably would have thought of it on his own.)
So now Clem's time on the Planning Commission has been cut tragically short to less than three months.  What is he remembered for best during this brief stint, his highest recognition?  
Connie Mandic, the Planning Commission's chairwoman, said Thursday that what stood out about Dominguez was his attentiveness whenever residents spoke at meetings. "He was very tuned in to people and very dedicated," Mandic said.
Let's hear some other people's memories, and see a couple of fun videos, before wrapping this up.
Christie Dominguez (Prince Clem's wife):
Farewell and rest in peace my dear father-in-law King Clem Dominguez.

He was truly a unique man with a kind heart and an uplifting spirit. He was true to himself, followed his heart and stood up for what he believed in. He was truly passionate about life, and the things he loved, including his family, and his community.

I'm going to miss his positive attitude, his encouragement, his sarcasm, sense of humor, and the many interesting conversations we had. He was a wonderful father, grandfather, and friend, and I was lucky to have him as my father-in-law for the past decade. My children adored him, and I feel so disappointed that they didn't get more time to know and love their grandfather. His memory will live on with the many stories we will share with them, and with the many laughs he has brought over the years.

Forever in our hearts, Papa Surf, you will be missed incredibly. ❤️
Zaaleh Clerke:
King Clem Dominguez was my uncle and my friend. I was 6 years old when Aunt Sue and Uncle Clem packed up their VW Van and left New York to head west to Huntington Beach. Not only was it a new adventure for them but it lead to many adventures for their entire East Coast family. Soraya and I always looked forward to our trips to visit the Dominquez's. From running barefoot to the beach or skiing the slopes in Mammoth, it was always awesome. As I got older and had a family of my own it was amazing to see my children have the same excitement about their visits.

Clem definitely marched to the beat of his own drum and what a good beat it was! He has left a big hole in so many hearts. I am shocked and so sad, yet it is hard to think about Uncle Clem without smiling. Thank you, Thank you, Thank you Uncle Clem. My life is better for knowing you. I love you and will miss you always
Activist Stephanie Seavers Green:
Sometimes when you least expect it, someone walks into your life and makes you better. Yesterday King Clem Dominguez passed away. In 2014 I met Clem when he briefly considered running for City council. I didn't know then what I know now. He was going to make me a better person. Clem was smart, vocal and active in our community. He continued to step up to the plate by running for the OC water board. Most recently he served us all by being appointed to the HB planning commission.

But let me tell you how he made me a better person. Clem was a great listener. He didn't just wait for his turn to talk, he really listened. Clem was smart. He did more then just read the headlines and form an opinion, he became a student of the issues and seeked out all information not just that which promoted his point of view. Clem was fearless. He was willing to put himself on the ballot in an attempt to help our community. I am a better person because Clem showed me how to be a friend to our community. He showed me you can sit in a room full of people that don't like you or your ideas and learn something. R.I.P my friend.
Many more tributes are on his Facebook page.  Here's the big scene at my September concert, where he had come to talk about his water board run.  A minute in is great – that huge bully chasing Gina Clayton Tarvin around the room sure wasn't expecting to get OWNED by a little old guy half his size:
Clem's final (and typical) facebook post:
Happy 73rd birthday to the one and only King Clem Dominguez. An article in the HB wave called him a gadfly. I laughed and agreed. ❤️

Posted by Genevieve Dominguez on Thursday, March 23, 2017
Take it easy Clem, we are sure you're up there surfing the Milky Way!
And we'll finish off Poseidon for you and Gus.