.
.
.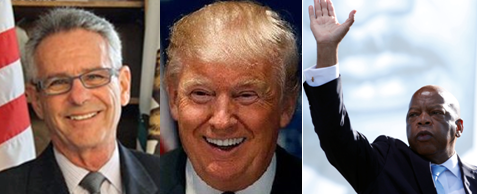 I (Vern) figured this was timely OC news:  Congressman Alan Lowenthal, who represents (besides the Long Beach area) Los Alamitos, Rossmoor, Cypress, Westminster, Buena Park,  Midway City, Stanton, and parts of Anaheim and Garden Grove, will join the ever-growing list of Congressmen who will not be attending Donald Trump's inauguration on Friday.  He joins a list of at least 60 and growing;  he's not even listed yet on this ongoing tally which includes a lot of good quotes.
So, let's see what Lou does!  (Not that this is something I really care too much about.)  Here is Alan's statement, hot off the transom/presses:
"This has been a difficult decision for me as I have the utmost respect for the office of the President and the peaceful transfer of executive power embodied in the inauguration.
"However, President-elect Trump's recent attacks on Rep. John Lewis were beyond the pale and served as a tipping point which made me re-evaluate my original intention to attend.
"John Lewis is nothing short of a true American hero. He bravely put his life on the line, numerous times, all to bend the long arc of history toward a more justice-filled future for all Americans.
"On inauguration day, our nation invests the President-elect with executive power. We do not anoint the President with respect. Respect must be earned. Donald Trump, in his attacks on Rep. Lewis, and minorities, and women, and the disabled, has yet done little to earn my respect.
"For that reason, and in solidarity with those he has attacked, I have decided not to attend the inauguration. I sincerely hope that over the next four years President Trump will work hard to earn the respect of all Americans, not just those who voted for him. The American people deserve it and the office of the President requires it."
Congressman Alan Lowenthal represents the cities of Long Beach, Lakewood, Signal Hill, Avalon, Los Alamitos, Rossmoor, Cypress, Westminster, Garden Grove, Buena Park, Anaheim, Midway City and Stanton in California's 47th Congressional District. He can be followed on Facebook, Twitter, or his website.