.
.
.

The Orange Juice Blog has been asked by a student group on a local college campus to create a sort of primer on how our huge county's government works, and how a citizen can influence it.  And how did we respond if not:  "Sounds like a very worthy project, and well within our wheelhouse?"
So we begin with the big enchilada, the elected, 5-member Board of Supervisors.  We'll look at their responsibilities and powers, their major influences, what other agencies report to them, and how YOU can best make them listen to YOUR concerns. 
We'll try to tone down our usual OJ snark and cynicism as we look at their record going back a decade or so, and the challenges facing them in the "fierce urgency of NOW."  We will speak to members, insiders and critics equally, and greet the new year (2016) in Norberto Santana's spirit of democratic optimism!
The 411 on the Supes
The functions of the Board, as authorized under California law and enumerated here, are to:

Establish policy;

Approve the annual budget;

Appoint Executive Officers and several other positions;

Approve contracts for projects and services;

Conduct public hearings on land use and other matters;  and

Make appointments to boards, committees, and commissions.
The Board meets roughly every other Tuesday morning at 9:30, at the Hall of Administration, 333 W. Santa Ana Blvd, 10 Civic Center Plaza in Santa Ana, our County seat.  This calendar tells you which Tuesdays the meetings happen.  To find out what exactly the Board will be discussing that day, you can find the agenda for each meeting here.  If you find yourself really becoming a BOS meeting junkie, you can subscribe to get each agenda e-mailed to you just before the meeting, as I do.  And here is the link to view meetings online, live or archived, if you are severely agoraphobic or something.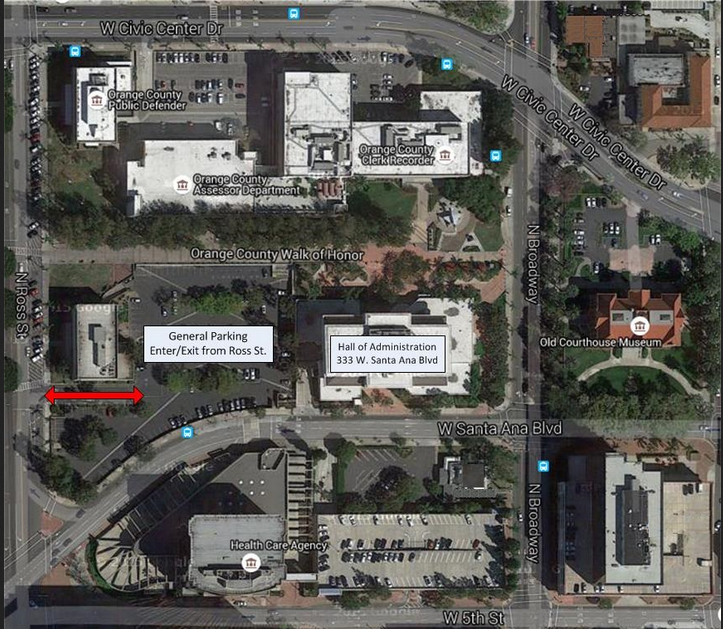 And you can speak during the public comments section of the meeting for up to three minutes, or if you are painfully shy, you can submit your comments via e-mail to response@ocgov.com, or call your Supervisor at the number above.

But who is your Supervisor?

Know your district, Know your supe.
First you should know what district you're in.  It can be a little confusing because you live in a Congressional district, an Assembly district, a state Senate district, and a Supervisorial district, none of which coincide.  But today we're talking about your Supervisorial district, of which this mammoth county is divided into five:

District 1, the "Central" one, includes Garden Grove, Santa Ana, Westminster, Midway City, and the northern part of Fountain Valley;  as you might guess, it was redrawn last time (2011) to include more Vietnamese voters.  It's represented right now by Andrew Do, at (714) 834-3110.
District 2, the Western and coastal one, includes Costa Mesa, Newport Beach, Huntington Beach, Seal Beach, La Palma, Los Alamitos, Cypress, Stanton, Rossmoor, the rest of Fountain Valley, and part of Buena Park.  It's represented by Michelle Steel at (714) 834-3220.
District 3, the North/Central one, includes Orange, Tustin, Villa Park, MOST of Irvine, Anaheim Hills, and the little unincorporated areas up in the hills.  It's represented by Todd Spitzer at (714) 834-3330.

District 4, the Northwest District, has Brea, Fullerton, La Habra, Placentia, most of Anaheim, and most of Buena Park.  It's represented by Shawn Nelson at (714) 834-3440.
District 5 is the Southern District, with San Clemente, San Juan Capistrano, Dana Point, all the "Lagunas," Rancho Santa Margarita, Mission Viejo, Aliso Viejo, Lake Forest, and a tiny bit of southwestern Irvine, as well as Coto de Caza, Ladera Ranch, and Las Flores.  It's represented by Lisa Bartlett at (714) 834-3550.

If you live in one of those towns that's broken up (Anaheim, Fountain Valley, Irvine, Buena Park) you can figure out which district you're in by inputting your address here.
Supervisors are elected for four-year terms, of which they can serve up to two.  This year (2016) the first and third districts get to vote, as Andrew Do and Todd Spitzer are running for re-election, Spitzer unopposed, and Do with two serious opponents.  The other three districts have to wait till 2018 to vote for supervisor.

As I said, we are restraining our usual snark when contemplating our current Board;  Do and Bartlett seem to be not so bad, and the notoriously mercurial Spitzer has his good moments.  For the last three decades (with the exception of Lou Correa's brief 2005-6 stint) ALL of our Supervisors have been Republicans, such has been that Party's stranglehold over OC politics – although how long can that last?  as Dem and independent registration continues to grow while GOP registration shrinks.  Just a matter of time, we can assume.

The job of Supervisor, in this age of term limits, is often used as a stepping stone to other offices;  three of the people who were our Supervisors two years ago (Janet Nguyen, John Moorlach and Pat Bates) are now in the state senate, as our politicians ascend regularly like burnt offerings to Sacramento.
The Orange Juice chats with Chairlady Bartlett.
Each year the Board chooses a new Chairman and Vice-Chair, they've got some kinda system where everyone gets a chance at it, unless one of 'em's in hot water with the others.  This year (2016) the new chairwoman is Lisa Bartlett, from the south county.  We thought it would be good for this article to ask her a few questions.

It didn't take too long for me to get an interview with Ms Bartlett – about a week from calling the above number – even though (unlike some of the other supervisors) she didn't know that I'm a celebrated and controversial blogger (because we don't write much about the south county.)  I'm telling you that because it probably wouldn't be much harder for you to reach her yourself, or whoever your supervisor is.

Full of positive energy, she goes on about how big our county is, more populous than 22 states!  The county government has 18,000 employees, 24 departments, and a $6 billion annual budget!  She continues to rattle off statistics and numbers with no notes in front of her.  What did she do for a living before this?  (Apart from Dana Point councilwoman and mayor.)  She was an executive in a worldwide computer software company, a project management consulting firm and several law firms.  (The other Supes are all lawyers, except for Mrs. Steel, whose qualification is Wife of GOP Bigwig.)

What are the Board's biggest challenges this year, I asked Lisa?  She says, the funding we get back from the State on the taxes we pay.  There's an ongoing grudge-match, we with our Republican leadership, Sacramento with its Democratic majority – which has SOMETHING to do with the fact that for every dollar we send up in state taxes, we get back SIX CENTS, while the average for a county is to get back 17 cents.  One consequence of this will be having to cut back $36 million on OCTA spending … not so much cutting bus routes as we've already seen, as delaying certain construction projects like widening the 57.

What does she hope to accomplish this year, with the Board, I asked her?  Her biggest priorities are in public safety, infrastructure (getting that Dana Point Harbor renovation finally done) and "regional mobility" – especially, a widening of the I-5 in San Clemente from La Pata to San Juan Capistrano.  She's optimistic about the progress made thus far on animal shelters, as well as homeless shelters, and wants to correct a couple of misconceptions about the planned Kraemer Street shelter, which is now in the escrow process:  there will NOT be an increase in homeless criminals wandering the streets in Eastern Anaheim.

"I know that each of you are also board members of the OCTA, what else are you on?"  Lisa is on 20 boards.  It's pretty hard to see how somebody could manage being on 20 boards.

Knowing my assignment, Lisa says that the best way for an average citizen to get connected and influential with OC governace is to get onto a board, commission, or committee.   Here is a link for doing that.

Also, knowing my assignment, Lisa says the next important thing I should write about is the "EXECUTIVE TEAM", which will be the next chapter of this story:  the folks appointed by the board to do the actual work running this big thing, the county's CEO, the Chief Financial Officer, the Chief Human Resources Director, the Chief Information Officer, the Chief Operating Officer, and the Chief Real Estate Officer.  Stick with me, it will all make sense.

OJ friend and former County employee David Zenger, who was fired by the county for excessive and impolitic honesty, chimes in:
 "Snark aside, the principal function of the County government is to collect taxes and distribute federal and state welfare (health care, social services) dough. The Sheriff runs the jail, the Chief Probation Officer tends to former and potential miscreants.
 "Apart from that there two main areas of expenditure: roads and flood facilities and the regional parks system.
 "As cities have incorporated, the normal constituency stuff like policing, land use planning, code enforcement has diminished to the canyon areas and a few woe-begotten "islands" that nobody wants – La Habra is home to many of them, some just a few parcels of real estate.

"[Snark back on.]  The amounts of money that flow through the County coffers is enormous and the opportunity for bureaucratic skimming and political games-playing is proportionately large. The annual County budget is about $6,000,000,000. So you take the IT function necessary to support this rough beast as it slouches off to Bethlehem, say, suddenly you have something worth hundreds of millions over the years, that can be "contracted out" and harvested by the Supervisor for massive campaign contributions.
"The County organization is a complete disgrace. Under Tom Mauk the concept of 'decentralization' meant that each department was doing its own HR, its own construction management, its own real estate, etc., its own procurement, and hardly anyone was doing any of it well. But they all loved it because there was no centralized control, and no bothersome application of basic professional standards and best of all ZERO accountability. It's a little better now, since all of the disasters forced some renewed central authority in things like HR (cronyism, Bustamante, etc.) and Real Estate (too many disasters to count). Still, I can perceive that the same attitude of coddling and ministering to the vain and childish and "mercurial" whims of the Supervisors still obtains.
"If Supervisor Bartlett were really serious instead of just another talking point regurgitator, she would inquire into the fact that the County has paid Project Dimensions Inc $13,000,000 over the past 13 years to manage the Dana Point Harbor "renovation" has has gotten precious little in return…"
Coming up:
The Executive Team

The OCTA, our Gods of Transport.

The OCDA, our Gods of Injustice.

CalOptima, our Gods of Health.

The Water Boards.

The School Boards.

Extra-governmental Shakers and Players:

The Parties

The Unions

The OCBC (Orange County Business Council)

OCTAX