.
.
.
While other local blogs we won't name squander their barrels-full of pixels on propping up the already-powerful, fashioning cattywampus justifications for their unjustifiable deeds, inciting hate against old scapegoats and boring us to death with their old grudges, THIS "venomous, grandiose and self-important gaggle of ankle-biters" is busy changing the world!
Or, at least, we try to.  And sometimes we, and the people we celebrate, succeed – as in recent "Register's Most Influential People of the Year" Tom Perrin and Gina Clayton-Tarvin.  We get up each morning, afflict the comfortable and do the reverse, and even when our success is negligible at least we had fun trying.  Didn't we?  Didn't we?

Here, a few days early, are our most-read stories of the year 2015.  As usual, they're pretty good ones, but we think there were plenty of BETTER ones … yet, we will NOT indulge ourselves telling you what the best ones were.  These were the ones that the most thousands of you read, for one reason or another. 
As always there are also old stories that people just can't get enough of clicking on and re-reading;  I'll put twelve of those "chestnuts" – from 2009 to 2014 – at the bottom.  Because "twelve" and "chestnuts" are both Christmassy.  Fasten your seatbelts…

1. BAOUT! Bao Nguyen Comes Out as Gay – Yes, Greg broke the story HERE of the young, charismatic Garden Grove Mayor and congressional candidate coming out, a development which on the one hand inspired a general chorus of "DUH" and yet over 3000 of you-all couldn't get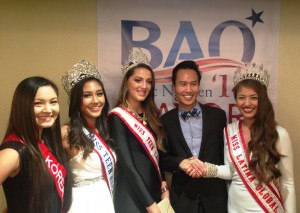 enough of reading about it … and also arguably sparked a Gaiety Race within the 46th District race which caused Also-Gay Jordan Brandman to spin off the edge of the known world. No, seriously, the scenario would be, Jordan came out as gay because Bao did and Jordan was sick of having to hide it, and it also allowed Jordan to spit at his critics that if they didn't like everything he did they must be homophobic, and then he felt with the lib-cred he'd earned by such a bold move, he could afford to single-handedly demolish Anaheim's hard-fought district elections and Latino enfranchisement, and then having thus gone WAY TOO FAR, he lost the support of his Party, dropped out of the race, and … who knows what comes next beyond further vistas of Kleptocracy yet? Thanks for all that, Bao.
2. An "Urban Village" on Banning Ranch? Oh, HELL no! – One of my projects in my own town of Huntington Beach
(and neighboring Newport and Costa Mesa) is showing two differing groups of voters & activists how much they have in common – the mostly conservative opponents of High-Density Development and the mostly liberal defenders of the environment.  The plans being hatched by the oil-company owners of Newport's Banning Ranch demonstrate perfectly that we share the same implacable enemy – insatiable developers who control most of the county's GOP and a lot of the DPOC as well.  This sort of message resonates, got a lot of folks out to October's Coastal Commission in Long Beach, and propelled this story of mine to #2 this year.  Time for an update – the project has been "scaled down" but "65% percent of a horrible idea is still a horrible idea" … and the next hearing will be in March.

3. Putting This on Sarmiento's Table and Awaiting a Reply: Anything to These Allegations?  When an anonymous commenter showed up here with somewhat credible-sounding charges of corruption against Santa Ana Councilman (and OCWD Poseidon supporter) Vince
Sarmiento, Greg decided the best thing to do would be to quote those comments, and solicit responses or rebuttals from Vince, Vince supporters, or anyone else knowledgeable in Santa Ana matters.  Sure enough we got plenty of response, rocketing this piece to #3 and bringing forth memories of when this blog was a scabrous free-for-all of Santa Ana chismes.  I think the general consensus after a while was that the anonymous "Ana Tansa" was a disgruntled, recently fired, city employee, and there was no merit to his charges against Vince.  But STILL – where does Vince really live, as he continues to serve as a Santa Ana Councilman and reportedly prepares for a Mayoral run?  Not in Santa Ana, they say!

4. How — Suddenly and Quietly — We Lost West Coyote Hills – An angry and elegiac tale of bipartisan betrayal of Fullerton voters and the environment, by our beloved Ryan Cantor.  Once again may I remind you that, alone among Fullerton Republican and Democrat office-holders, current assembly candidate Sharon Quirk-Silva did stand steadfastly against Chevron's despoliation of this last remaining notable North County open space.

5. Harkey-versary: Two years after judgment, criminal power couple has paid their victims NOTHING. – My stories on the criminal Harkey couple – elder-swindling Ponzi-crook Dan and his powerful politician wife Diane (now ex, and on the Board of Equalization) always get a lot of readers.  The numerous, elderly victims of this pair pass the stories around nationwide, it makes them feel better, even if the chances of them seeing any of their money back before they die remain as slim as ever…

6. Sheldon says "Suck it, Surf City" –
the Poseidon shill is also behind our High Density Development!  – See above, for my ongoing project of showing HB environmentalists and high-density opponents how much they have in common and should work together.  Our discovery of the fact that the OCWD's most outspoken Poseidon lover, Steve Sheldon, was also the consultant for the hugely unpopular "Elan" monstrosity at Beach and Ellis was very helpful in this cause.  And what a great, unlikable villain the plump, florid preacher's son Sheldon makes!

7. Westboro Baptist's Flaming Bigots Lose Match at Anaheim High in a Rout –
That was a great, fun episode from this year's OC history that GREG didn't allow to fall through the cracks!  These ancient cranky gay-haters from Kansas, always on the lookout for another place to get publicity for their God-Hates-Fags rallies, came out on the occasion of Rev. Robert Schuller's funeral (anti-gay Robert being insufficiently anti-gay for them) and decided to do their warm-up appearance at Anaheim High School… and it was really fun and heartwarming to see the welcoming Anaheim students and the rest of OC gave them.  A special appearance was made by the late, dead, decayed, Rev Fred Phelps himself, who spent the whole time moaning, "I WAS WRONG!  GOD LOVES THEM!"  I'm pretty sure that's the first time THAT happened anywhere!

8. Shayan Mazroei: Rally for Justice Saturday night – When this fine young Iranian-American man was stabbed to death by a white supremacist in Laguna Niguel, Greg's announcement of the "rally for justice" and the funeral got thousands of hits.

9. Spitzer's Homeless Shelter Proposal raises concerns  – This was the first of Ricardo Toro's pieces about the planned homeless shelter at Kraemer Place in East Anaheim.  Ricardo actually lives in the neighborhood not far from this site, and this piece, our 9th most popular story of the year, marks the beginning of his transition from an opponent of the site to a cautious supporter (if I understand him right.)  He was a little peeved at the photos and captions I used to illustrate his piece, which somewhat undercut his arguments.

10.  TIE!  between 3 Vern pieces:

Garden Grove Poseidon Update – PHAN is the MAN… who stopped this and needs to start it again! – I think Chris Phan mistakenly took this piece as complimentary.  No.  I think he was wrong to be the swing vote against Mayor Bao's bold anti-Poseidon resolution, he knows why it is such a bad deal for Garden Grove and OC, he claimed that Bao's resolution was "premature," and I am waiting impatiently for him to BRING IT BACK.  Are you scared of Poseidon, Chris?

Victorious Huntington Beach Patriots want their Plastic Bags Back – or something (???) – There was no shifting public opinion on this one – a majority of HB residents, at least the ones who bother voting, really seemed to resent being told by their city council that they couldn't have their plastic grocery bags, and would have to bring their own bags to the store or pay a dime for a re-usable one.  So all I could do was make fun of 'em for now… until the state finally bans them next year when that initiative fails.

Sharon Quirk-Silva withdraws her endorsement of Jordan Brandman – One of many cases where we not only reported the news, but helped make it happen!

Honorable mentions:
TOP 12 chestnuts:
1. Appeal filed for Jesús Aguirre, the Buena Park teenager serving life in Pelican Bay.  – For some reason, this gets read by more people every year since I wrote it in 2013 – nearly 8000 hits just this year;  over 13,000 altogether.  Since this story came out, Jesús' supporters, among whom this blog counts itself, helped get his sentence reduced from Life plus 25 to something closer to 19 years, and he has recently been moved to a prison closer to his family in OC.  If you'd like to write to him, his new address is:
Jesús A. Aguirre #AL2694
I.S.P. C – 4 – 242
P.O. Box 2199
Blythe CA 92226
2. Huntington Beach's Mobile Home Uprising – which side are YOU on? – This is another one that just seems to keep growing in readership – 5000 readers since I wrote it in August 2014, 3200 of those hits this year alone.  This may explain why I'm constantly getting calls from mobile home tenants who are being fucked over in other OC cities.  Not that I managed to make anything good happen in HB, things have only gotten worse, which explains why it's been hard for me to write a follow-up.  The folks in San Juan Capistran's Nido Estates had good news this year though, hanging on to their rent control.
3. "Homeless – The Motel Kids of Orange County" – This is one of three old pieces by our Occupy friend Inge, whom Greg calls "the one who really has had her hand on the pulse of OC political views… In the early hours of each morning, when this site is read largely by foreign readers, it's a rare day when one of her top two stories isn't represented in the day's top 10."  This one, a 2013 review of an Allesandra Pelosi documentary, has attracted 6000 readers so far;  I value it most for all the ones who wrote in comments, "Hey, I was one of those homeless motel kids!"

4. Doomsday Businesses "Laughing All the Way to the Bank" – THIS 2013 Inge piece reports on and makes fun of "doomsday preppers," Glenn Beck, and "Agenda 21," has received  11,000 hits since written!  I guess interest in it is beginning to wane by now, but it's still #4 of our chestnuts.

5. Christopher Columbus was a murderer, a terrorist and a pirate – Ah!  An old one by my predecessor Art Pedroza, nearly 10,000 hits in the five years since Art wrote it.  A fierce anti-imperalist tract which naturally gets the most hits around Oct 14 of each year, it elicits both strong resentment and strong agreement!  (At least, as Greg points out, a couple other of Art's chestnuts are starting to fade away – the one about "Happy Endings for Santa Ana Massage Parlors" and "Is Angelina Jolie a Democrat?"  Also, Geoff Willis' previously indestructible "Man Arrested When Shape-Shifting Hooker Turns into a Donkey" has finally slipped off the charts, having finally been read by EVERYBODY.)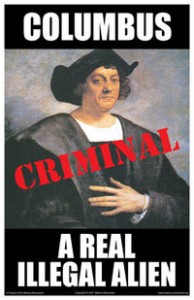 6. Fox News Host Megyn Kelly Desperately Hiding Fact That She Herself Just is Black – Greg's quick sardonic response to the snotty Fox anchor's insistence that Santa Claus is white (a piece that he doesn't seem too fond of any more) still gets lots of hits years later!  I wonder what folks are googling so much – Megyn Kelly Black?  And why?

7. In Memoriam for Michael J. Kinslow, Esquire – This great progressive figure in OC Democratic politics, and close friend of Greg's, died just over a year ago (Dec. 26, 2014) and Greg's eulogy to him continues to attract readers.

8. WARNING! Bananas Sold in USA are Genetically Modified – This 2014 Inge story, which was handily fisked by her nemesis "anonster" in the comments, still gets a lot of hits.

9. Doolittle's Raid. The untold story – Our old cranky conservative blogger Larry Gilbert, apparently provoked by what he considered an incomplete or incorrect Register article that morning about this World War II episode, penned this chestnut in 2010; and somehow, over 5000 readers have checked it out since he wrote it.  Hey Larry!  Good job "Juice Brother."  (He's the one who coined that phrase.)

10. If You Were Mayor, What Would You Do to Improve Your City? – The oldest of these chestnuts, dating from 2009 and written by Pedroza.  If you ignore the subtle subtext that Art had just become a secretly-paid APOLOGIST for Mayor Pulido after years of being a tough critic, this is a nice simple post that basically just asks the question in the title, and has received over 4000 hits since 2010 (we don't seem to have records from before 2010.)  Well?  What would YOU do if you were Mayor of your town?  Go write it in the comments there!

AND NOW you'll see why we went up to 12 here – these last two are the most hilarious of all!

11. How sanctimonious Matt Cunningham worked and fought for Strip Club owners last year! – 3000 hits since I wrote it in 2013, this piece celebrates the epic hypocrisy of the blogger who gave us the epigraph on our masthead:  "I have rarely seen a more venomous, grandiose and self-important gaggle of ankle-biters."  The comments are just as classic as the piece.

12.  "Anyone who is a believer WILL REGRET IT if he or she does not come see Instructor Man Hee Lee!" – A Korean cult came to the OC in the summer of 2012, rented out the Crystal Cathedral for their leader Man Hee Lee to preach, and called me up to ask me to do a nice write-up, and you know what happened next.  Nearly 5000 hits on this one so far.  Again, the only thing more hilarious than the story is the comments, pitting sardonic Juicers against robotic cult followers.  (I miss Demagogue!)