.
.
.
Yes I know, it's an age-old Rudyard Kipling joke at the expense of those who have never kippled, later adapted in the heyday of Scott Joplin for them who had yet to jopple.  But it still begs the question (and how appropriate to misuse a cliche like "begging the question" – that's also an essential ingredient of "epting") – it begs the question, what exactly does it mean, to EPT?  How does one know, whether one has EPTED, or not?
Well, this weekend we shall look at one essential ingredient of the act of "epting," an ingredient that has marked the Huntington Beach author's career – his quality of stubbornly, willfully, ignoring any evidence presented to him that contradicts his chosen version of reality. The fictional TV pundit "Stephen Colbert" immortalized this trait and named it "Truthiness" in this classic monologue from his first (2005) episode, where he pledged to "FEEL the news at us" from his "GUT." :
No doubt, back in 2007, Chris felt "in his gut" that trigger-happy border guards Ramos and Compean were wronged heroes, unjustly imprisoned by the Bush administration, back when that was a right-wing, anti-immigrant cause celebre and he wrote a couple of Independent columns in their defense.  So when actual HB journalist John Earl, who had researched the case in depth, sent court transcripts to Chris showing that the agents had shot 15 times at a fleeing unarmed Mexican suspect, crippling him, not reporting the incident, covering up evidence, and giving conflicting testimony, Chris absolutely refused to look at it.  As he told John during another dispute, "I'm not a journalist!"  (Although he usually claims to be one, and has a cow when public figures refuse to be interviewed by him.)

I was reminded of that incident last week, in the context of the dispute between the Oak View neighborhood and the adjacent stinky Rainbow dump – a dispute in which, for reasons unknown, Epting and a few of his friends have decided to take Rainbow's side in painting the neighborhood and school district as exaggerated, unsatifiable complainers who secretly want to destroy Rainbow.

Two weeks ago, on October 28, Chris wrote a long post on his "Surf City Chronicles" blog detailing what he (actually some Rainbow spokesperson whom he trusts implicitly) claims are huge mistakes or lies on a flyer prepared by community activists announcing an Oct 29 protest/rally, and distributed at local schools.  As Rainbow flacks instructed Chris:
"There have not been 'dozens' of Notices of Violations filed."  [For "creating a public nuisance," as the flyer claimed.]

"Rainbow's permit does NOT allow the acceptance or processing of any hazardous material, only solid waste, green waste and C&D based upon their permit.  Here is a link to CalRecycle where you can see their permit provisions.    Under 'Permit details' Click on that and you'll see what they can accept.  Also you can look on the tab 'enforcement actions' and you can see there are none.  There is a lot of interesting info on this page, FYI."

"Their misting solution was approved for their use by AQMD for odor reduction and mitigation."

"As the district has been told many times, they stopped concrete

crushing

in 2011 after the school district complained."

"The flyer states that they receive 4,000 tons a day of raw garbage." [Actually it said "up to 4,000" – V]  "They have not received anywhere near that amount.   The Local Enforcement Agency can provide what they receive based upon their scale house computer system.  Every arriving truck is weighed on a state certified scale which is entered into their system.   That is reported to the LEA." [Local Enforcement Agency, the OC HCA.]
So, Chris threw these Rainbow accusations of Oak View lies out there 13 days ago, while loudly soliciting response from OVSD or the neighborhood activists.  Any readers of Chris' blog, however (which he claims number in the thousands) can be forgiven for not knowing that he received a detailed response from one of OVSD's lawyers, disputing Rainbow's claims, defending the flyer's claims, THE NEXT DAY, Oct. 29 – twelve days ago – and still hasn't seen fit to print it or acknowledge receiving it.  Even though the letter says, "since Rainbow itself has chosen to give out misinformation, I hope you will share the full contents of my response as well, in order to correct the inaccuracies."   You can read it here (two pages) but I'll quote the bulk of it:

1.  OVSD to Epting:  "First you state that … 'There have not been dozens of violations filed.'  This is categorically false.  There have been 33 Notices of Violation filed against Rainbow.  All but five of those are related to nuisance.  The 33 Notices of Violation can all be viewed here:  http://www3.aqmd.gov/webappl/fim/prog/novnc.aspx?fac_id=20061"  D'OH!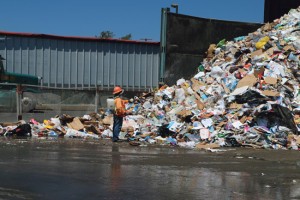 2.  "Next, Rainbow's spokesperson points out that their permit does not allow them to process hazardous material.  This is true, however, their load-checking protocols do not appear to be sufficient or effective to actually prevent hazardous materials from ending up at the facility.  In fact, on November 6, 2013, an AQMD inspector was responding to an odor complaint, and saw that ventilation ducts wrapped in asbestos-containing insulation were sitting out in the open at the public dumping area.  The material was allowed to pass through Rainbow's supposed load-checking controls, even though the inspector could tell that the ducts posed an asbestos risk just by looking at them… 
"…  In addition, Rainbow does receive concrete and drywall at the construction and demolition debris area.  … There is always some risk that hazardous substances such as chromium-6 and respirable crystalline silica will be released from the handling of such materials.  …"

3.  On the misting solutions which the flyer referred to as "chemical deodorants" that "are not safe," and Rainbow tells Epting "are approved by the AQMD" – "That may or may not be true.  At this point we have some conflicting information regarding the current misting solution, which we will not be able to sort out until discovery is resumed in the District's lawsuit…"

4.  On the very toxic concrete crushing, which Rainbow claims to have stopped in 2011 after OVSD complaints:  "First, while the actual crushing appears to have been intermittent … Rainbow did not begin to remove the enormous piles of crushed concrete sitting uncovered on the Transfer Station property until the end of 2013, and the piles remained into 2014."  [That last "2014" bit may be mistaken, according to an AQMD inspector Saturday – V.]  "Rainbow claims it will not resume concrete crushing, but in 2014 the School District asked the OCHCA to prohibit the outdoor crushing and storage of concrete, and Rainbow vehemently opposed any such amendment.  In light of Rainbow's history, their promises do not mean much to the school district until they are put into a binding and enforceable document." 
EXACTLY – most facilities do not crush concrete; when Rainbow does it's the only one in the OC;  it is a very carcinogenic and PROFITABLE process, and it's not unreasonable to suspect that Rainbow would quietly return to it if allowed to, especially if the OVSD falls under less aggressive leadership, which seems to be Epting's mission this coming year.  "Indeed, in 1981 Rainbow said that no odorous material would be allowed at the Transfer Station, and in 2009 they claimed that they'd begin the construction of Transfer Station 2 [within a year or two.]  We all know how those promises ended up."

5.  On the 4000 tons:  "…That is not quite what the flyer states.  It says 'UP TO 4000 tons per day.'  Regardless of actual throughput, their permit does currently allow them to process up to 4,000 tons per day.  I would imagine that whoever wrote that sentence did not have access to Rainbow's load-checking logs…"

On a roll, the OVSD lawyer continues:  "Please allow me now to correct another misconception that I have seen you repeat – specifically that Rainbow is operating with in the law.  That is simply not true.."  And it goes on, you really should read the two pages.
But Chris must have felt, "in his gut," that his readers had no business hearing the other side of the story.  So the best I can do is print it and link to it here.
Saturday's SCAQMD hearing at Oak View

A five-member contingent from the South Coast Air Quality Management District had the consideration to come down and conduct a neighborhood meeting/hearing this past Saturday morning;  I and Chris both caught most of it.  There was a huge turnout, mostly of residents who came to complain to the Board that conditions were even worse than they thought;  there was also a large contingent of Spanish-speaking Rainbow workers who had been told to be there because "their jobs were on the line" – they waved signs saying "Rainbow <3 HB."  (Duh, of course a business loves its biggest customer.)

From my [limited] talks with Rainbow brass, they really do seem to believe that the School District and neighborhood want them put out of business, at least for the two years they're proposing to take making their enclosure, but that is not at all the official position.  Rainbow is ALSO being sued by Stanton-based trash hauler  CR&R (which has sued them BEFORE successfully for $6 million) for dirty business practices – concealing profits and inflating expenses in the places where they collaborate – Westminster and Midway City.  So Rainbow seems to have developed a paranoid bunker mentality, suspecting that all the lawsuits are connected and OVSD wants to replace them with CR&R.  (And it didn't help that we were handed slashed-out Ranbow signs at the hearing.)  No, we don't give a damn about CR&R.  We just want Rainbow to clean up and enclose faster.

As the Register puts it, "the district's hearing board is considering a petition by the AQMD for a stipulated order of abatement that details the measures Rainbow Environmental Services and the watchdog agency have negotiated to reduce the odors and pollution that escape the facility. The board has the authority to accept or reject the order and whether to add requirements…  Those requirements include enclosing much of the operations, new limits to the amount of refuse that will be accepted, and cleaning and bookkeeping measures." What the neighborhood and school district want is that but more and faster, as I listed in this recent story:
Air-vent filtration, which would substantially reduce "fugitive dust;"

Full enclosure of construction and demolition waste area, which could be most dangerous;

Condition their permit so that they cannot legally go back to crushing concrete;

DURING THESE TWO YEARS, to lessen the stench, some intermediary mitigation measures:  stop processing trash by 5:30 which is the last time it can be moved off premises;  as of now trash and garbage lies festering on the floor all night long, creating that unforgettable dead-body smell each weekday morning.  Also, WASH THE DAMN TIPPING FLOOR!
The deluge of speakers Saturday took all day, so the AQMD will be making its decision up in Diamond Bar this Thursday morning;  we'll let you know what it is.  But let's pause to appreciate the situation we find ourselves in, where, after three decades of NOTHING HAPPENING, the two positions are 1) pretty good remediation within two years, versus 2) better remediation quicker.  We wouldn't be here at all if it weren't for a very aggressive and litigious school board under the direction of President Gina Clayton-Tarvin.

…who is up for re-election next year, and on whom, of course, Huntington Beach blogger Chris Epting has declared war.  The Epting tactics during these last desperate few days seem to be:  convince the AQMD that all the neighborhood testimony was forced and coached by a few extremist activists, with any dissenting voices (saying that the problems aren't so bad) being intimidated into silence.  I believe the SCAQMD will roll their eyes and laugh.