.
.
.
Sleazy old Newport Beach consultant Dave Ellis had a mixed week, last week.
It was surprising to see this secretive figure actually run for public office – the Municipal Water District of OC this year.  He'd evinced a feeling of relief and liberation when he pried himself free, not long ago, from the last position where he was expected to show some responsibility to the public – his disastrous and near-criminal stint on the Fair Board, where he took advantage of his position to try to sell the public property to himself and friends for development and profit.  As I wrote in my 2011 Dave Ellis masterpiece, Dave
"had always operated secretly in the shadows, and took to the open governance required of public entities like a mole blinking in the harsh sunlight." 
So, while we'll probably never know what his secret motivation and plans were for his water board tenure, he may have felt some relief when he came in second, beat by the Irvine Company candidate Saturu Tamaribuchi, and hobbled by the successful legal efforts of our own Greg Diamond to weaken his ballot designation to "water DISTRICT consultant."

At the same time Dave could take consolation in the "clean" sweep his chosen slate of developer-Repuglican candidates made on the Newport Beach City Council, driving out the distinguished Mayor Rush Hill and his relatively honest conservative allies and causing great consternation amongst our moderate Newport friends.
And to cap off Dave's big week, we now hear he will soon be subpoena'd and deposed to find out what he knows about, and how much he may have had to do with, the outrageous railroading of his old political foe Sam Clauder on completely false child porn charges, for which Sam served 50 days but was later exonerated.  We'll look at Sam's lawsuit in a moment, but first let's learn a little bit about…
Samuel  Hershel Clauder, Muckraking Inland Empire Journalist.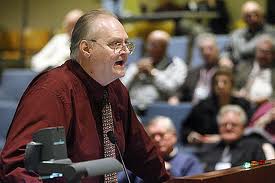 For 14 years, Clauder was one of OURS, an OC Democrat running a political consultancy out of his Garden Grove home – if he hadn't left for the Inland Empire in 2004 he could very well be an Orange Juice blogger by now, or more likely with the Voice of OC.  He frequently crossed swords back in the 90's with El Toro Airport consultant Dave Ellis over what to do with the abandoned Marine base, leading to a grudge that Dave obviously still nurses.
From his new hometown of Crestline, north of San Bernardino [see map below] he wrote mostly about sports – mainly for the Crestline Alpenhorn and frequently carried by the SB Sun and the LA Times – but found it hard to stay away from both politics and crime reporting.  Beginning in 2008 he also worked as an aide to Blue Dog Congressman Joe Baca, until his legal troubles a few years later made that impossible.

His most controversial work – what probably landed him in this fix – was his investigation into the 2006 Aaron Plante rape case in nearby Twin Peaks, and the SF Sheriffs' bungling of it.  This was one of those "popular promising high school jock and his buddies insert a bottle into a drunken girl at a party" stories;  this particular girl didn't want to make a fuss, but made the mistake of describing the event to her counselor not realizing he was a mandated reporter.  Clauder started off looking at the case skeptically, being friendly with Plante and his family, but soon learned that Aaron and his friends had apparently done the same thing on three other occasions to three other drunken girls.

First off, the SB sheriffs blew the case by immediately putting out a press release with the girls' names;  it wasn't long before peer pressure caused all four of them to recant their damaging testimony against the local football star.  But the tenacious reporter wouldn't drop the story.  His publication, The Alpenhorn, under pressure from local movers and shakers as well as the sheriffs, ordered him to drop it;  instead Clauder quit the Alpernhorn and continued the investigation on his own.

Eventually he discovered that a sergeant had further blown the case by lying about the location where the rape occurred:  this sergeant was friends with the owner of the home where the party had taken place, the home was for sale, and it did not need the notoriety the rape would have given it.  An internal affairs investigation confirmed this, and the sergeant was disciplined by being packed off to Big Bear, causing great and lasting animosity against Clauder in the SB Sheriff's Department.  (A side lesson gleaned by Sam was that Big Bear is the dumping ground for bad and incompetent SB Sheriffs:  the only way out of Big Bear is retirement or death.)

Bad timing:  at the same time as he was making so many powerful enemies among the area's elites and law enforcement, Clauder was going through a particularly nasty divorce, which gave the powers-that-be the opportunity to take their revenge on him.  Sam found out about the newest ugly wrinkle a mere five days after he brought the results of his Aaron Plante investigation to the FBI:

That Bit of Unpleasantness…
Clauder's Achilles' heel turned out to be his bitter and unstable son, who dealt with his parents' messy divorce by accusing his dad of downloading child porn on his computer.  This turned out to be completely untrue – it was roundly disproved by a computer forensics company, and the son later recanted – but Clauder's life was turned upside down – he spent 50 days in jail, lost his job with Baca, and forever has his name associated with child porn in many minds.
OK, a grotesque family tragedy, but what does this have to do with vengeful sheriffs, how is it political, what is the basis for Clauder's lawsuit against the county (which you can read here?)  Well, as the lawsuit puts it:
"…because the nature of the crime carried social opprobrium but not present danger of violence, coupled with the known propensity for fabrication by those engaged in bitter divorces, the need to investigate potentially exculpatory evidence before making an arrest and proceeding with a criminal prosecution should have been evident to any reasonable peace officer."
And yet these Sheriffs and this DA, driven we believe by their animus against Clauder, went forward with this case as though the wife and son were unimpeachable witnesses despite their both having failed polygraph tests.   In fact, the first Deputy DA assigned to the case protested that it was "a poor case that shouldn't have been filed" – so it was taken away from him.  During the height of this inquisition, San Bernardino DA Mike Ramos' ruthless political consultant Dave Ellis exulted to several Democratic friends of Clauder, "We finally have him right where we want him."

That just sounds SO Dave Ellis, to those of us who know him, and just the sort of thing he would get mixed up in.  Was he just enjoying the whole scene of his old El Toro Airport foe being dragged through the mud, or did he have anything to do with helping it happen?  We look forward to answers soon on that and more.  Meanwhile Sam Clauder, who has for decades fought for the liberalization of drug laws, has been busy working on a 2016 initiative to legalize marijuana in this state;  when I spoke to him this week he was at a convention in Las Vegas working on that very matter.  Let's hope he sees some success and justice, and let's enjoy shining some unaccustomed light on Dave Ellis while we're at it!

"The transition to oxygen-breathing organism was slow and painful."