The group "Fast for Families," which includes people who are fasting to bring attention to the need for comprehensive immigration reform, took their bus to OC yesterday to bring attention to their cause.  Both the traveling troupe and local activists then spent last night in outside of the district office of Rep. Ed Royce, a major opponent of immigration reform, on the Birch Street Promenade in Beautiful Bountiful Brea. The Orange County bus tour is hosted by the Korean Resource Center (KRC), Orange County Congregational Community Organization (OCCCO), Orange County Labor Federation (OCLF), Orange County Immigration Coalition, and SEIU United Service Workers West. They are focusing on Reps. Royce and John Campbell — in Royce's case because of the swiftly changing demographics of his district.
The event includes a rally at 10:30 a.m. (or so) and will continue until 6 or 7 tonight.
The meeting — not with Royce himself, but with his local Chief of Staff (or some other high position), which is further than they've ever gotten before — is to take place in a few minutes as this posts, at 10 a..m.  But, you still have some time to get there in time for the rally that will take place at 10:30!  (Please enjoy of fine shops and restaurants while you're there — maybe take in a movie!  Sorry — too much?  OK, then just come to show your support for comprehensive immigration reform!) Here are some photos from the scene last night and this morning:
As our caption machine has now apparently broken, I'll include text here.  The "11″ stands for the number of million people that comprehensive immigration reform opponents want to see tracked down, arrested, detained, tried, detained some more, and then shipped off to their countries of origin (or, in some cases, perhaps to jail, because we have so much room for them.)
The alternative is to give those who have been here for a while and demonstrated that they are productive and law-abiding — good "American citizen" material, in other words — a pathway to citizenship.
Do you know who wants to waste all of that money getting rid of productive workers and prospective good citizens rather than even allowing a vote on comprehensive immigration reform?  The answer is in the upper right.
We know the answer — but we can hope that the answer will change! 
Settling in for the night …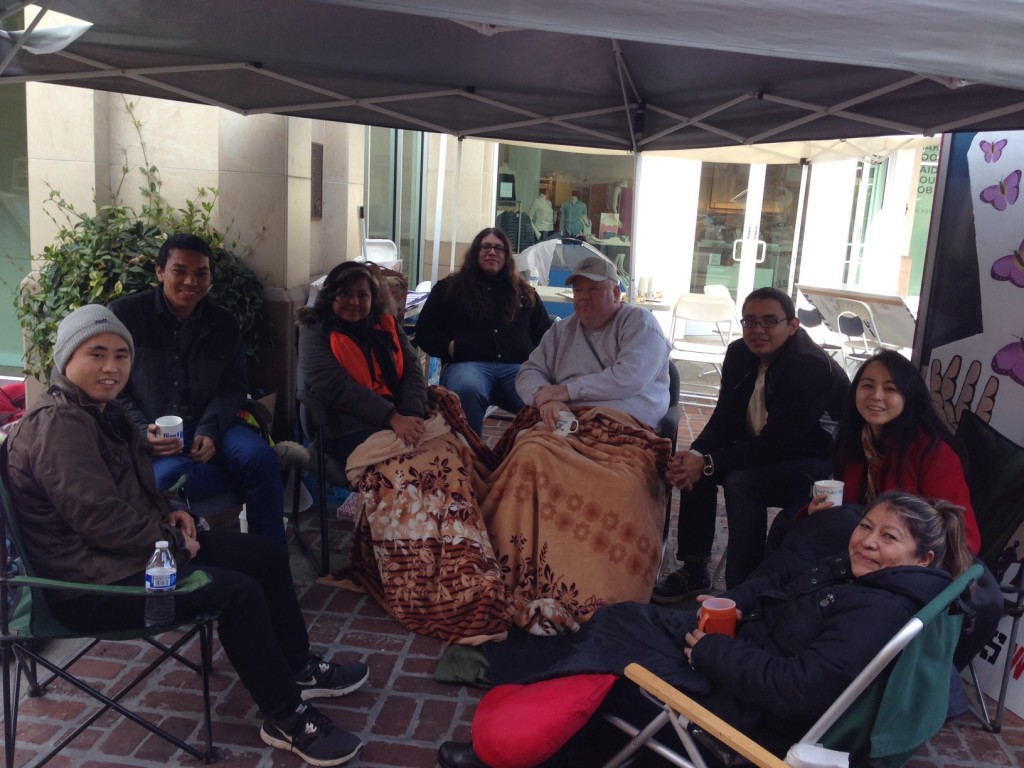 … and, apparently, everyone survived the wilds of downtown Brea to enjoy their morning  cups of hot water!  (Just to be safe — did someone do a head count?)
More text, photos of mine, photos swiped from others, and photo captions coming soon!