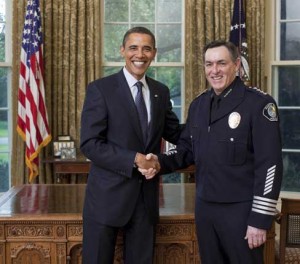 Apparently Santa Ana Police Department Chief Paul Walters called voters, using a robo-call service, this week to warn them about mayoral candidate Alfredo Amezcua.
Amezcua and his Usual Suspect acolytes promptly came unglued.  Here is what Amezcua posted on his Facebook account:
The Santa Ana mayor has forced the police chief to make vicious, false allegations about me in a robo call. The mayor is again abusing public resources and trust to promote his interests – not ours. In a city with the worst crime rate in Orange County, our police chief should be working on improving public safety instead of being forced into a smear campaign by a desperate career politician fearful of losing his job.
Amezcua's publicist forwarded this note to Usual Suspect Debbie McEwen, who is known for having been sued by the ACLU after she erected illegal traffic barriers in her French Park Neighborhood, to keep Mexicans out.  McEwen then posted it on the fading Santa Ana Citizens Yahoogroup.
Walters has good reason to warn voters about Amezcua.  Walters is dedicated to fighting crime in Santa Ana.  Amezcua represents the very worst criminals in our city, as a criminal defense lawyer.  He has actively pursued the worst cases, representing drug dealers, members of the Mexican Mafia, gang members, killers and rapists.  Amezcua also has allegedly received 19 traffic tickets, and as his own attorney he played games with the court records, changing his name from one ticket to the next, presumably to avoid messing up his driving record.
Click here to read the rest of this post.