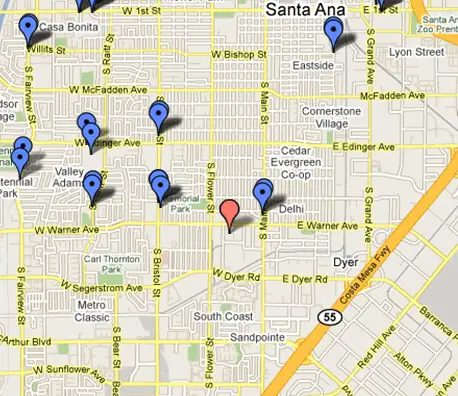 The blue marker above are past SAPD DUI checkpoints.  The next one is coming this Saturday, at the pink marker.
The Santa Ana Police Department (SAPD) will be conducting a DUI/driver license checkpoint on Saturday, April 10, from 7:30 p.m. to 1 a.m., near the area of 500 W. Warner Ave., which lies just west of the historic Delhi Neighborhood, according to Theresa Cisneros, of the O.C. Register, in a Facebook comment.
As you might recall, I researched all of the DUI checkpoints conducted by the SAPD over the past two years and disclosed in a post on this blog that they never set up checkpoints in the extreme northern and southern areas of our city.  They set them up in Latino neighborhoods.  In my opinion, this is done so more cars can be seized from immigrants, although the SAPD says otherwise.
The numbers however don't lie.  There have been 115 DUI arrests, out of over 17,000 vehicles that have passed through the checkpoints. Of those vehicles, 4,573 were actually screened, on a random basis. Only 125 field sobriety tests have been conducted. Continue reading SAPD DUI checkpoint set for Saturday night, near Delhi Neighborhood.
Click here to read the rest of this post.