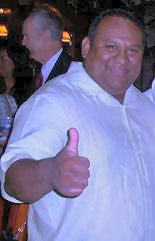 Santa Ana Councilman Sal Tinajero is a champion at water conservation
The Santa Ana City Council is going to be revising landscaping codes this Monday, to include water efficient landscaping, at their last meeting this Monday evening, according to the City of Santa Ana's website.
Many cities are allowing home owners to use alternative landscaping that wastes less water.
With that in mind, shocking news emerged over at the O.C. Register this weekend, as they published the amount of water used by local elected officials in Orange County.  It turns out many of these officials are big-time water wasters!
Click here to find out which Santa Ana Councilmen are wasting the most water!