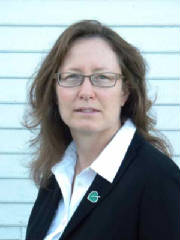 Will Jane Rands, the Green Party candidate for the 72nd Assembly District, take away female votes from Republican candidate Linda Ackerman?  One can but hope – and there are a lot of Decline to State voters in the district that just might go green in this election.
Here is Rand's campaign message, from her website:
No one should be without clean water, clean air, health care, or an education, and yet so many people in our state are suffering because they cannot afford these things. If these and other issues like a sustainable economy, decentralized clean energy, equal marriage rights and campaign finance reform are important to you, then I ask you to consider voting for me in the Special Election on Nov. 17.
The man who recently resigned from this office bragged about having an improper relationship with a lobbyist for an energy corporation whose industry he was supposed to be helping to regulate. Although not every elected official might choose to illustrate this metaphor so directly, nearly all take money from lobbyists. I won't! I simply will not take their money because I am running to represent you and not them.

California needs a new energy plan based on clean, renewable power. We need health care without insurance companies getting in the way. We need a long term solution to bring water to our cities without harming our natural environment. Last year Prop. 8 took away constitutionally guaranteed rights for the first time in our state's history. This shameful action must be reversed to restore the right of marriage to lesbian and gay couples. Public transportation has been cut terribly while huge sums of money are given to widen freeways that are still jammed with cars. Elect me to work for real mass transit.

Please join me in campaigning for the California we all know we can have if we work together, not twenty years in the future, but now!
According to the L.A. Times, Rand is a systems engineer.
Click here to see Rand's Facebook page.