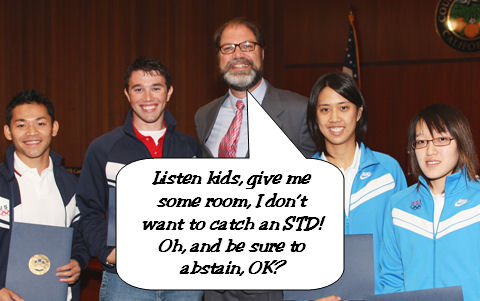 H/t to our friends at the OC Progressive Blog, for digging up some interesting data regarding O.C. Supervisor John Moorlach's district.
You may recall that Moorlach recently voted, not once but twice, to cancel a County contract with Planned Parenthood, involving use of tobacco settlement funds to conduct health and sex education training at Planned Parenthood's clinics.  Moorlach openly admitted that he did this because he is anti-abortion.
Well, it turns out that his constituents don't share Moorlach's views. Here are a few excerpts from OC Progressive that illustrate this point:
In polling done for the 46th Congressional district last year, which overlaps most of the Second Supervisorial district, one of the baseline questions concerned support for a woman's right to choose. 39% of voters felt that abortions should be available to any woman who wanted one.  27% believed that abortions should be available with only minor restrictions. 17% believed that abortions should only be legal under severe restrictions, and a mere 12% believed that abortions should never be legal. (7% didn't respond).

Overall, the district scores 65% pro-choice.

In the 2008 election, voters in Moorlach's district voted against fairly modest restrictions on abortions for minors in state Proposition 4, 134,065 to 131,716. (And this proposition failed in every other Supervisor's District by even wider margins.)
Amazing. Moorlach, like most of his party, is completely out of touch with voters in his district.  Sad but true!