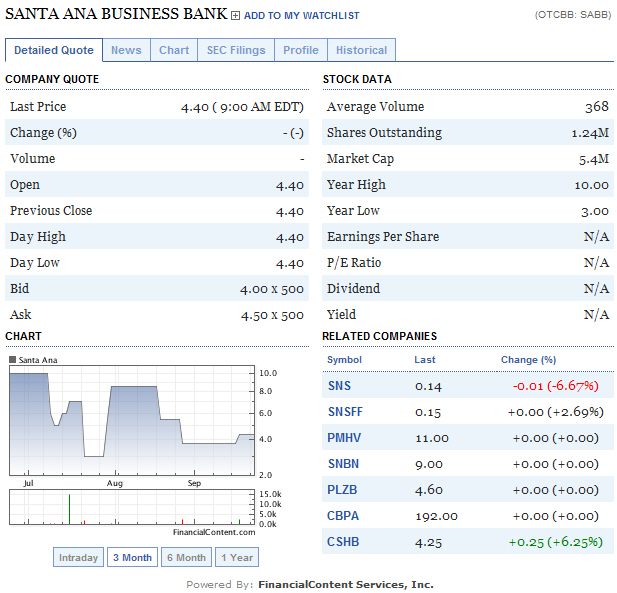 The shares of the Santa Ana Business Bank have dropped in value by 56% since their inception.  The entire banking industry has been hit hard this year by the turmoil on Wall Street, but this really bodes ill for the folks who started and are running the Santa Ana Business Bank.  They include Santa Ana Councilman Carlos Bustamante, who is now calling himself a business owner.  Well Carlos, it looks like you are doing to your bank what you did to your city, which has been struggling with a $17 to $28 million budget deficit.  I wonder if Bustamante's friend, President George Bush, will call him and tell him "you're doing a great job Carlos!"
The Santa Ana Business Bank is also, reportedly, on a list of banks that the Federal Government is now banning from short selling, according to ABC News:
The federal government, trying to boost investor confidence in the face of a market crisis, took the dramatic step Friday of temporarily banning a practice of betting against financial stocks.
The move by the Securities and Exchange Commission will temporarily ban what is called short selling of nearly 800 financial stocks.
Short selling involves borrowing a company's shares, selling them, and pocketing the difference when the stock falls. It is a legitimate method of trading – it can make markets more efficient and bring in more capital – but the government argues that it has widened the scope of the recent financial crisis and contributed to the collapsing values of investment and commercial bank stocks in particular.
And the Santa Ana Business Bank remains under-capitalized, with only $5.4 million in its coffers.  That is not much for an alleged business bank.
I have been very critical of this bank since it opened, because of the presence of numerous Santa Ana politicians on its board of directors.  The bank is led by Alfredo Amezcua, who recently declared he would not run for re-election to his seat on the RSCCD Board of Trustees.  Other board members include Vicky Betancourt, who sits on the City's Planning Commission; Alfredo Bustamante, who sits on the City's Historic Resources Commission; Mike Metzler, who heads up the organization formerly known as the Santa Ana Chamber of Commerce; and Bustamante.  Santa Ana Councilmen David Benavides and Vince Sarmiento have publicly stated that they invested in this bank too.
Well boys, your bank is not doing very well.  I wonder how much City of Santa Ana and Santa Ana School Board money is in your coffers?  I hope it is safe…if these people cannot manage a City well, what makes anyone believe they can manage a bank?